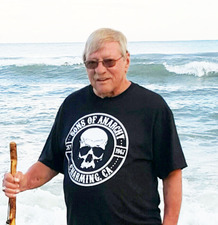 William Edward Easton
June 16, 1942 - February 18, 2016
Easton, William Edward -73 "Bill" Easton, 73, passed away surrounded by his loved ones at Montgomery Regional Hospital February 18, 2016. He was born June 16, 1942 to Harry and Mary (Britt) Easton in Fredericksburg, VA. Bill loved engineering and worked as a general contractor for 30+ years until he was forced to stop due to his illness. He enjoyed gun and coin collecting, traveling, and spending time with family. Bill was always willing to lend a helping hand to those in need. Survivors include his 2 daughters, Beth Easton Brady of Richmond, and Sara Easton Crotts of Floyd; 4 grandchildren Peyton, Hunter, Reagan, and Skylar; and sister Linda Macina of Lancaster, PA; as well a niece, Michelle Aitken, nephews, Matthew Sperry, and Robert Macina Jr., along with other relatives, friends, and fellow Moose Lodge Members. A memorial service will be held Sunday Feb. 21st at 5PM at the Floyd Moose Lodge with a reception to follow. Grave side service will be held on Monday Feb. 22nd at 11AM at Jacksonville Cemetery. Online Condolences may be made at www.gardnerfuneralhomefloyd.com. The family is being served by Gardner Funeral Home (540) 745-2007.
---
Guest book
Hilda Garrido
Richlands, Va
February 19, 2016
To Linda, Beth, Sara And the Grandchildren I'm so sorry for your loss. Bill was a good man. Friends to so many. Was so glad I got to spend the time with him I did. I will never forget him. He was one of a kind. He loved his family dearly. RIP Bill you fought a long battle. Love you my friend.
---
Frank Britt

February 20, 2016
Gloria just called and gave me the news.Sorry to hear.Had not seen him since my dads death. My condolences to the family.
---
Nancy Britt Eskew
Flat Rock 28731 NC
February 21, 2016
So sorry to hear of Bill's passing. Our mother's lived together while my father and his father were serving in WWII, for a short time. My father was the brother if his mother. Hazel.Bill and I were about the same age, around 3 to 4 years old. Once the war was over, Hazel and Eddy went to Va. I did not see him but about 5 times, when Hazel came back to see her mother and father in Colerain.NC We were just a few months difference in age.
---
naomi grubb
roanoke,va.24015
February 21, 2016
We would like to extend our deepest sympathy to your family. Worked with Bill at the telephone company for years and have a lot of respect for him. He will be sadly missed. Also Elvia Pendleton and her daughter Coleen wish to send their sympathy.
---
My Condolences to the Easton family. This must be a hard time as you deal with the loss of your loved one. May you find comfort from our loving Father who "will wipe out every tear from their eyes, and death will be no more, neither will mourning nor outcry nor pain be anymore. The former things have passed away" Revelation 21:4. This is a wonderful future promise which awaits us all under the reign of Christ Jesus and will do away with death forever.
---
Margaret Murphy
Roanoke, Va
February 22, 2016
Our thoughts are with Family. We remember Bill from working days at C & P Bell Atlantic Luck Av Office downtown Roanoke Friendship and Care, Beth, Sara and Grandchildren Roanoke Life Member Club Telecom Pioneers of America Retired Friends
---
Sign the Guest Book for William Edward Easton