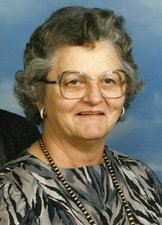 Jaqueline Poff Blackwell
October 07, 1926 - February 28, 2016
Jaqueline Poff Blackwell began her earthly journey on October 7, 1926 as a middle child of James Lafayette and Ocie Adeline Wilson Poff. Her love for her family and friends was endless and beyond belief. She was the center of her family's lives. In addition to her parents, she was preceded in death by her husband and best friend of over 64 years, Harvey Blackwell, as well as brothers and sisters Edmund Poff, Murrie Poff, Evelyn Conner, Beulah Vest and Colean King. Jaqueline went home to join them on February 28, 2016. She is survived by daughters Carolyn (and Doug) Snead, Annette Blackwell and Yvonne Blackwell; grandson, Dan DeMartin (and Edina) and 3 great-grandchildren. In addition she is survived by sisters and brothers Sylvia Shortt, Louise and Dorsey Thompson, Wilson and Audrey Poff, Shirley and Emma Poff, sister-in-law Joyce Poff, and many nieces and nephews. While she was momma to 3, she touched the lives of hundreds of children having taught in the Floyd County School system for over 40 years. She began her teaching career in 1944 at only 17 years old in the one-room school at Mount Pleasant. She retired in 1985 as Librarian at Check Elementary. In addition to her family and students, she loved her garden, flowers and birds. Funeral service will be held Thursday March 3rd at 11AM at Gardner funeral home chapel with Rev. Roy Turpin officiating. Interment will follow in Restvale Cemetery. Visitation will be held Wednesday March 2, 2016 from 4 until 6 PM. Online Condolences may be made at www.gardnerfuneralhomefloyd.com. The family is being served by Gardner Funeral Home (540) 745-2007. Special thanks to her caregiver, Sandra Hartman and the Carillion Hospice staff. Flowers are welcome or contributions may be made in her memory to the Floyd County Fire Department, Station #3, 1710 King Store Rd, Check Virginia 24072.
---
Guest book
Velva Wirt
Christiansburg, VA
March 02, 2016
I am truly sorry for your loss. God bless you all.
---
Janet Wimmer Pratt
Wirtz Va
March 02, 2016
My condolences to the family. Jacqueline was my fourth grade teacher. She was a good teacher and a lovely lady.
---
Nila
Copper Hill, VA 24079
March 03, 2016
Carol, Annette and Yvonne, I am so sorry I am unable to attend the funeral for your dear Mother today. Please know that you are all in my thoughts and prayers. I always enjoyed talking to your Mother. She was a sweet and ever honest Lady. Ricky was honored to be there today. God Bless you, Nila
---
Carolyn Boyd
Roanoke, VA
March 03, 2016
I am so sorry for your loss. Please accept my condolences and may God comfort you in this hard time. God Bless you all.
---
Donna
Greensboro nc
March 07, 2016
Mrs Blackwell was my teacher in Elementary school. The bible says if you have a special mighiness you live 70 or 80 years. Ms Blackwell went beyond that. In this world we never live long enough. God gives the hope of seeing our loved ones again. John 5:28,29 in perfect health. Hold on to the future hope that God gives
---
FRIENDS AT HUBBELL LIGHTING
CHRISTIANSBURG VA
March 09, 2016
Carolyn So sorry for you loss. You are in our thoughts and prayers. FRIENDS AT HUBBELL LIGHTING CHRISTIANSBURG VA.
---
Sign the Guest Book for Jaqueline Poff Blackwell