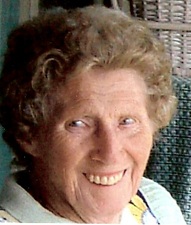 Arlene Sweeney Lawson
April 13, 1926 - June 29, 2010
Arlene S. Lawson 84, of Floyd, our beloved "Granny," passed away on Tuesday, June 29, 2010. A native of Floyd, Virginia, she retired from the Virginia Department of Social Services after 35 years of service. She was preceded in death by her parents, Kate and Roy Sweeney, her husband, Floyd Lawson, and a sister, Marie Harrison. She is survived by a sister and brother-in-law, Grace and Lynwood Gearheart; a brother James Sweeney; three daughters and sons-in-law, Donna and Sam Burton of Christiansburg, VA; Karen and Chuck Feldman, of Kinnelon, NJ; and Sandra Lawson and Joe Gomez of Lafayette, Colorado. She is also survived by her grandchildren and their spouses, Josh and Theresa Feldman, Sam II and Charity Burton , Shawn Feldman and Dan Feldman; two great-grandchildren, Evan Feldman and Quinn Burton. We are grateful for the time we had to spend with Granny, for the many gifts she gave us, and for the unending love she showed to all that she knew. She will be greatly missed by both friends and family. Funeral services will be conducted at 11:00 a.m. on Friday July 2, 2010 at Gardner Funeral Home Chapel with the Reverend Todd Triplett officiating. Interment will follow at Jacksonville Cemetery. Friends may call on Thursday after 1:00 p.m. at Gardner Funeral Home where the family will be from 6-8 p.m. We would like to acknowledge her many wonderful friends for their support during her recent illness. Condolences to the family may be made at www.gardnerfuneralhomefloyd.com.
---
Guest book
Dean Jorgensen
New York, NY
June 30, 2010
Josh, Theresa, Evan and extended family: We're all thinking of you from New York. As difficult as the loss of a loved one is, we hope that you can celebrate the many things that your "granny" meant to you. Dean, Jim, Lincoln, Peter, and the rest of your Grant Thornton Friends
---
Cecil & Elaine Handy
Riner, VA
July 01, 2010
Arlene was a joy to be around and we are grateful for the time we had with her! Our deepest sympathy to her family and friends.
---
Martha Harrison Minnick
Roanoke, VA
July 01, 2010
I know what a difficult time this is for everyone. My love and prayers are with you. Martha
---
Vicky Via
Roanoke,VA
July 01, 2010
My thoughts and prayers are with you Donna, Karen, and Sandra. Your mom was a very special lady. I can remember being around her when I was younger and she was so much fun. God Bless you all.
---
Janie Spence
Willis,Va.
July 01, 2010
Donna,Karen,and Sandy I am very sorry to hear of Arlenes' passing. She was always so kind and patient with Donna and I during our teenage years. I loved going to El Tenedor and spending time with the Lawsons. Love and prayers go out to all of you.
---
Melody Sweeney
Early, TX
July 01, 2010
Sincere condolences to my family. Arlene will be missed. She taught us how to fish on her back deck overlooking Little River. Love you all. God bless, Melody
---
The Feldman Group
Paterson, NJ
July 01, 2010
Our thoughts & prayers are with you at this difficult time. Jorge,Faleena,Kay,Tonya,Zavier,Carol, Ann Marie,Vivian, Anne, Jeannie, Lillian Blum, Dave Miller, Linda Sheehan, Antonio, Jeffrey and Dave D
---
Antonio
Paterson NJ
July 02, 2010
Karen,Chuck and Family We know this is a difficult time. We send our thoughts and prayers to all for the lost of your loved one. Sincerly, Antonio,Sharonda Shakurah,A'Nia
---
Benny & Cheryl
Bent Mtn, VA
July 02, 2010
To Sandra and all the family - we were saddened to hear of Arlene's Homegoing; please know that each one of you are in our prayers. She made all my childhood visits to your home so special, and she'll be missed by so many. Love and peace to all.
---
JoAnn and Paul
Floyd Va
July 21, 2010
Karen, Donna, Sandy and Families Our deepest sympathy to all of you .Our prayers are with you during this difficult time.May you find peace . Love always Jo Ann and Paul
---
Sign the Guest Book for Arlene Sweeney Lawson