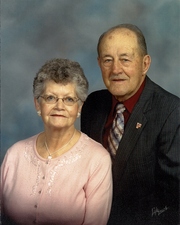 Joan Link Akers
August 17, 1933 - April 04, 2016
On April 4, 2016 Joan Link Akers, 82, of Riner went home to Heaven and entered into the presence of her Lord and Savior Jesus Christ, where she also joined her husband of 59 years, Harless Freeman Akers. She was born on Mattox Mountain in Check, Virginia on August 17, 1933 to the late Joseph Conner Link and Rheba Jane (Light) Link. Joan worked at number of jobs during her life—Blue Ridge Overall Factory, Christiansburg Garment Company, Auburn School Cafeteria, Avon Lady—but her greatest life work was being a faithful, loving wife and Godly Christian mother who raised up five children in the nurture and admonition of the Lord. Joan is survived by 5 children, Vicki Painter (Buck), Donna Lucas (Danny), Jerry Akers (Lori), Cindy Hart (Tim), and Mark Akers (Alisa Knapp—fiancé). Grandma Akers was blessed with 11 grandchildren, Tonya Phillips, Melanie Bishop, Monica Percival, Justin Lucas, Katie Mikels, Zachary, Seth, Caleb, and Hannah Akers, Matthew and Colby Memitt as well as 14 great grandchildren, Allison Bishop, Riley Phillips, Therron, Elijah, and Ivy Percival, Amelia and Cooper Lucas, Harleigh Mikels, Micah and Raegan Akers, Paisley Cox, Ava Holt, Aubrey Akers, and Shelia Memitt. Also surviving are four brothers, James (Peggy), Danny, Paul, and Allen Link, three sisters, Betty Reynolds, Mary Richardson, Brenda Hungate (Carl), and one foster sister Joyce Whitaker (Chris). Friends may call at Gardner Funeral Home after 8:30 AM Friday April 8, 2016 where the family will be from 6-8 PM. Funeral services will be conducted at Gardner Funeral Home in Floyd at 11:00 AM on April 9, 2016 with Pastor Jerry F. Akers (son), and Pastor Ben Whitaker officiating. Interment will follow at Sunset Cemetery in Christiansburg. Online condolences may be made at www.gardnerfuneralhomefloyd.com. The family is being served by Gardner Funeral Home in Floyd.
---
Guest book
John and Deborah Carter
Floyd
April 06, 2016
Donna and family, we are so sorry for your loss. We will be praying for your family.
---
Jon Link
christiansburg,va
April 06, 2016
Going to miss Aunt Joan, loved her so much. I'm praying for her family.
---
Brenda Hancock

April 06, 2016
---
Lauren Bowen Hand
Christiansburg, VA
April 06, 2016
So sorry for your loss, your entire family is in my prayers.
---
Nancy Jarrell
Yorktown, VA
April 06, 2016
To all of the family I am keeping each one in my heart and in my prayers. Your Mother was a beautiful, Godly lady. She will live on in your hearts because love never dies. Her race is run and her journey has just begun in her Heavenly Home. Thank God for the promise of being with your loved ones again. May God give you comfort, courage and strength as only He can give.
---
Bill /Pat Ray
Dublin VA
April 07, 2016
Our thoughts and prayers are with you..
---
Robyn Estes Dawson
Floyd
April 07, 2016
Mark I'm so very sorry to hear of your mother's passing Just know you and your family are in my thoughts and prayers. With My Deepest condolences Roby Estes Dawson
---
Marguerite Link
Roanoke, Va
April 09, 2016
I am Marvin Link's widow. I don't think I ever met Joan but Marvin talked about her often, as well as her brothers and sisters. Since they were 5 years apart in age, I am sure they had many memories of growing up together. My condolences to all of her family. I feel sure that Marvin was in Heaven waiting to have a family reunion and rejoicing in seeing her again. Love and hugs to all of you.
---
Sign the Guest Book for Joan Link Akers