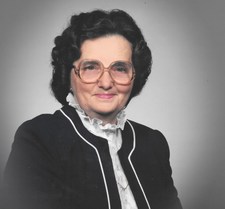 Norma Daurice Graham Hatcher
February 09, 1931 - July 16, 2016
Norma Daurice Graham Hatcher, 85, of Floyd, passed away Saturday July 16, 2016. She was preceded in death by her parents, Asie Clayton Graham and Della Myrtle Slusher Guinn, and one son Jerry Tilden Hatcher. She is survived by her husband of 65 years: Harlow Jabe Hatcher; two sons: David (Darla) Hatcher, Sanford (Teresa) Hatcher; one daughter: Alice (Ralph) Hollandsworth; one daughter-in-law: Susan Hatcher all of Floyd, VA; one sister: Virginia Brown of Salem, VA, six grandchildren; Mark (Stacy) Hollandsworth, Bradley Hatcher, Allison (Anthony) Munsey, Ashley (Shayne) Poff, Telena (Riley) Harmon and Samuel Hatcher, six great grandchildren Gavin, Heath, Tanner, James, Trent, Macy. Funeral Services will be Tuesday July 19, 2016 at 2 PM at Gardner Funeral Home with Pastor Roy Turpin and Pastor Mike Bowman officiating. Interment will follow in Jacksonville Cemetery. Friends may call after 6 PM Monday July 18, 2016 at Gardner Funeral Home where the family will be from 6 until 8 PM. The family would like to thank Carilion Hospice and all other caregivers and friends for the love and kindness they showed to Mom. Online condolences may be made at www.gardnerfuneralhomefloyd.com.
---
Guest book
Elaine Gray
Cana, Va
July 17, 2016
So sorry, Alice, for you and your family's loss. I know how hard it is. Please know I am thinking of you.
---
Bonnie Bowers Bonner
Olney, MD
July 18, 2016
My condolences and prayers for your family. I am going to come to the funeral tomorrow, but Tim is not able to get away from church responsibilities. We so appreciate you all coming to Mom's funeral and making sure Norma and Jabe could get there.
---
Charles and Maggie Sutphin
Floyd, VA
July 18, 2016
Our deepest sympathy!! Sending love, thoughts and prayers! Charles and Maggie Sutphin
---
Lindell Hatcher

August 02, 2016
So sorry to hear the sad news about Norma's passing. My deepest sympathy to you and your family. I was in Florida (July 10-31) during that time or I would have tried to attend one or both (visitation & funeral services) and extend my condolences in person God bless you, Jabe and your siblings. Lindell
---
Sign the Guest Book for Norma Daurice Graham Hatcher