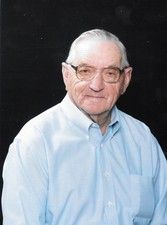 Lewis Wayne Whitlock
December 23, 1926 - October 11, 2016
Lewis Wayne Whitlock, age 89, passed away at home surrounded by his family on Tuesday, October 11, 2016. Lewis was a member of Stonewall Church of the Brethren. He completed seven years in a one room grade school. Lewis found a love and passion for farming, which he continued doing until he was no longer physically able to work. Lewis respected and cherished the relationships that were created with his fellow farmers as he would trade, buy, sell or haul their horses and cattle. Lewis was called to serve his country in the U.S. Army before returning back to the farming he loved. He was preceded in death by his parents, George Fred and Della (Lawrence) Whitlock; his son, Melvin Wayne "Buck" Whitlock; and his brother, Sherman Whitlock. He is survived by his wife of 68 years, Eleanor Ingram Whitlock; his sister, Ruby Ridpath; his two daughters, Sherri W. Martin and husband, Sam, and Anne W. Gearhart and husband, Randell; daughter-in-law Cheryl Whitlock-Allen and husband, Virgel; Eight grandchildren, Lawrence (Patricia) Whitlock, Monica (Kevin) Grubb, Matthew (Christina Simko) Martin, Emily (Aldo) Loya, Brandon Gearhart, Wyatt Gearhart, Shaylee Gearhart and Colby Gearhart; and five great-grandchildren, Garrett Whitlock, Jesse Whitlock, Kearsten Grubb, Collin Grubb and Santiago Loya; many nieces, nephews, cousins and special friends. The family would like to thank Lewis' caregivers Nicole and Jennifer, as well as Rhonda, Colleen and Ashley from Good Samaritan Hospice. Their outstanding compassion and care given to him cannot go unnoticed because each one of them became a part of Lewis' family. Funeral services will be held at 11:00am, Friday, October 14, 2016 at Stonewall Church of the Brethren with pastors Jerry Hylton and Darren Landon officiating. Interment will follow at Stonewall Cemetery in Floyd, VA. Friends may call after 3pm on Thursday October 13, 2016 at Gardner Funeral Home where the family will be from 6-8pm. In lieu of flowers donations can be made to Stonewall Church Building fund c/o Marie Thomas 536 Poor Farm Rd. Floyd, VA. 24091, or Good Samaritan Hospice 1160 Moose Dr, Christiansburg, VA 24073. Online condolences may be made at www.gardnerfuneralhomefloyd.com.
---
Guest book
Gwen and Brent Hendrick
Floyd, Va
October 12, 2016
Eleanor and Family, We are so very sorry to learn of your families' great loss. Our deepest sympathy and prayers to your entire family during this difficult time. Much Love, Gwen, Brent, Jennifer and Kevin Hendrick
---
Linda Haney
Riner, VA
October 12, 2016
I am so sorry to hear of Lewis Wayne's passing. Although I did not know him personally, I feel as though I did. He was a respected cattleman. I know he will be missed by his acquaintances, family and friends in the county. Prayers are being said for the family.
---
Mary Jane Pumphrey
Manassas, Virginia
October 13, 2016
I am thinking of the Whitlock Family as you celebrate Mr. Whitlock's life. His life has blessed me with a very dear friend in his daughter,Sherri. She is such a blessing to me. As I know you are surrounded by hills and mountains in the beautiful area of Floyd, I share my favorite scripture. May it bring you comfort at this time of loss. " I look to the mountains; where will my help come? My help will come from the Lord who made heaven and earth." Psalm 121:1-2 Mary Jane Craig Pumphrey
---
Steve and Tammy Whitlock and family
Floyd
October 13, 2016
Thinking of you all and praying for your family. Love in Christ, Steve and Tammy Whitlock
---
Regina Cox
Floyd, VA
October 14, 2016
Got to know Mr Whitlock while providing physical therapy services. He was a joy to be around--always smiling. Had a quiet demeanor, but always polite and kind. I thoroughly enjoyed spending those few weeks with both he and Eleanor. Sincerely, Regina Cox and husband Jessie
---
Mark gearheart
Pilot va
October 14, 2016
So sorry for your loss. If u need anything let me know . He was one fine man I miss seeing him at garsge.
---
Chuck Shorter
Blacksburg
October 16, 2016
Anne, Randall,and family, Sorry to hear about Mr. Whitlock passing. He was a fine gentleman and you were lucky to have him so long. I'll always remember admiring that big cattle truck he drove around when I was a young man. We are out of town so won't make it to the reception. Sincerely, Chuck
---
Sign the Guest Book for Lewis Wayne Whitlock