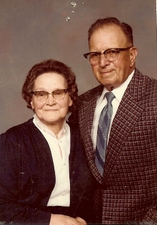 Mamie Graham Light
August 29, 1913 - September 29, 2010
Mamie Graham Light, 97, of Indian Valley, passed away on Wednesday, September 29, 2010. She was preceded in death by her husband, Roy Morris Light, one son, Joseph Light, and one grandchild. Surviving are three sons and two daughters-in-law, Edward Light, Blacksburg; Rifton and Edith Light, Indian Valley; David and Carol Light, Shawsville, VA; one daughter and son-in-law, Elizabeth and Bobby Bratton, Dublin, VA; eight grandchildren, twenty-nine great-grandchildren, nine great-great grandchildren, and several nieces and nephews. Funeral services will be conducted at 11:00 a.m. on Saturday at Gardner Funeral Home Chapel with the Reverend Kenneth Poston officiating. Interment will follow at Piedmont Cemetery. Friends may call on Friday after Gardner Funeral Home after 1:00 p.m. where the family will be from 6-8 p.m. The family wishes to express their appreciation to the staff of Skyline Manor Nursing Home for the care and service they provided. Condolences to the family may be made at www.gardnerfuneralhome.floyd.com.
---
Guest book
Shelia Collins
Check, VA
September 30, 2010
Susan, I am so sorry for the loss of your Grandmother. My heart goes out to you. Grandmothers are very special people and can never be replaced by anyone. Know that she is with God and that one day you will be with her again in a better place. Please let me know if you need anything at all. We love you so much! Thoughts and Prayers going out to you and your family.
---
Merith Taylor
Nottingham, PA
September 30, 2010
Susan, my sympathies to you and all your family. The memories of your sweet grandmother and our visits to C-burg will be dear in my heart. I love the picture that was put with her obituary, she's looks exactly like the memories I have of her!! I'm sure you feel very blessed to have such a wonderful grandmother, and you have made her proud, know that!!
---
Ron and Linda Kay Smith
Chesterfield, VA
October 01, 2010
Dear Edward, Rifton, David, and Elizabeth, We were sorry to hear about the death of Aunt Odell. We want you to know that our thoughts are with you at this time of sorrow. Take care and best wishes to all of you and your families. Love, Linda Kay and Ron
---
Sandy Bostic
Floyd
October 02, 2010
Mamie was a resident of mine on night shift and she will be missed and i cared a lot about her I will miss her May God Bless You All Sandy Bostic
---
Linda Kay and Ron Smith
Chesterfield, VA
October 02, 2010
Dear Edward, Rifton, David, and Elizabeth, We were sorry to hear of Aunt Odell's death. Just know that out thoughts will be with you during this difficult time. Take care and best wishes. Love, Linda Kay and Ron
---
Sign the Guest Book for Mamie Graham Light