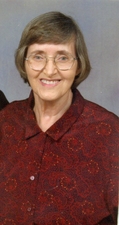 Betty Rose Gatling Morgan
November 27, 1936 - November 21, 2016
Abingdon, VA – Mrs. Betty Rose Gatling Morgan, 79, of Willis, VA passed away peacefully November 21, 2016 after a long illness. She was born November 27, 1936 in Rocky Mount, NC to the late Quinton Gatling and Marie Allen Gatling. Betty spent most her childhood in Rocky Mount, NC, Hampton, VA, and Wilmington, NC, where she married, then raised her family in Greensboro, NC and Hollywood, FL. Settling in the beautiful mountains of Floyd County, VA, she and her husband were able to split their time between Virginia and Florida. Betty was a faithful wife, loving mother, and beautiful friend to all who knew her. She was the family historian with an amazing memory for detail, and spent many years documenting family history. Betty loved books, especially history and inspirational stories, cooking and collecting recipes, traveling with her family, and dachshunds. Betty was blessed with the gift of remembering friends and family with thoughtful handwritten letters, and she taught children's Sunday School for 25 years. Betty's sweetness and sense of humor will be deeply missed, and she was a blessing to all. In addition to her parents, she was preceded in death by her siblings, Danny Gatling, Curtis Gatling, and Linda Bizzell, as well as her surrogate parents, her aunt and uncle, Helen and Alan Smith, who raised her after her mother's death. Those surviving are her husband of nearly 60 years, Howard Morgan, her daughters Lisa Morgan, of Winston-Salem, NC, Susan Morgan Washinsky and husband John, of Clemmons, NC, and her grandchildren, Michael Washinsky, Joseph and Carly Morgan-Whitlock, her cousin Jimmy Smith & wife Charlotte, as well as her sisters-in-law, Phyllis Morgan, Lois Morgan, and Shirley Morgan and brothers-in-law Robert Morgan and Jerry Bizzell, and extended family. Special gratitude goes to Betty's angels, Jan Parker and Pat Ingram, who spent many lovely hours as her companions. Many thanks also go to the staff at Commonwealth Assisted Living and Caris Hospice in Abingdon, VA, and many kind friends. Visitation will begin on Friday, November 25, 2016 1pm, and the funeral Service will be held 2pm, both at Gardner Funeral Home, 202 East Oxford Street, Floyd, VA. Burial will be on the family property, 554 Emmanuel Road, Willis, VA. Online condolences may be made at www.gardnerfuneralhomefloyd.com, or on Facebook @gardnerfuneralhomefloyd.
---
Guest book
Susan Washinsky
Clemmons, NC
November 23, 2016
I miss you mom, but you are always in my heart. I am honored to be your daughter, and I hope that I bring honor to you and your memory. I will remember you and pray for you every day until I breathe my last. <3
---
Susan Allen Daughtry
Greenville, NC
November 23, 2016
I just wanted to let all of you know I am sorry for your loss. It has been many years since I have seen any of you but I still have good memories.
---
Madeline Miller
Gainesville, FL
November 26, 2016
My deepest condolences on your loss. God bless your family. Madeline (Mrs.Glen) Miller
---
Ralph Wethli
Hollywood Fl.
November 26, 2016
And remember that memory is one gift of God that death can not destroy.Sincer condolences, Howard
---
Bob & Sharon Thrasher
Leesburg, Fl
November 26, 2016
So sorry for your loss Howard.
---
Jim and Alana Hampton
NC
November 26, 2016
We are so sorry to hear of Betty. We loved her. Jim was especially fond of her and teased her and she teased him back. He got a kick out of her sense of humor. She was a smart, kind, and lovely person. We saw her usually once a year at company picnics and got together with them in Virginia. May the Lord continue to comfort this family. God Bless....we shall see her again at the beautiful shore.
---
sam butler
orlando florida
November 27, 2016
Howard, We have not shared time for many years but from our days at NAL and our mutual friendship with the McCredies, I have always had high respect for you. And the Christmas Tree farms in the mountains-I remember the accounts of that venture. Please accept my sincere condolences for the loss of your wife, Betty. Although we did not know her, the bio tells her life story, and that of a wonderful citizen of life. Sam Butler,NAL (McKinley St in Hollywood)
---
Sign the Guest Book for Betty Rose Gatling Morgan