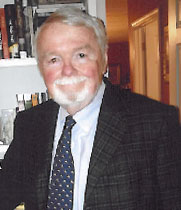 Edward William Fallon
May 02, 1938 - February 06, 2017
Edward William Fallon, 78, of Floyd, passed away Monday, February 6, 2017 in Roanoke, VA. Ed was Born on May 2, 1938 in Scranton, PA. He is preceded in death by his parents Anna Butler and Edward Hughes Fallon. Ed is survived by his beloved wife, Linda Albee Fallon; sister: Hannah Fallon Burke (Tom); daughter: Johanna Fallon Reinhardt (John); sons: Edward Hughes Fallon II, David Grube Fallon; grandson: Patrick George Reinhardt; step daughters: Ashley Elizabeth Donayre (Jay), Jennifer Hope Davy, PHD.; step son: Christhoper Whiting Davy (Beatriz); step grandchildren: Olivia Willow Donayre, Ryan Xavier Donayer, Matthew Tyler Davy; and lifelong friend: Ronald Smith, PHD. (Hannelore). Ed was a graduate of the University of Pennsylvania where he was a brother in Sigma Chi Fraternity. He subsequently received his MBA from the Warton School. Following graduation, he served in the US Air Force Reserves. After completing his military obligations, he enjoyed a career in Commercial Real Estate Development in Chicago, New York, and abroad. Upon retirement, he and his wife split their time living in Berlin, Germany for part of the year and Floyd, VA. When in Floyd, Ed served on the boards of RSVP and Virginia's Blue Ridge Music Festival. He volunteered for PLENTY!, the Chamber of Commerce, the Backpack Program, and was a member of the Lions Club. In 2008, he and his wife created and supported the Classical Music Concert Series held at the Floyd Center for the Arts. He loved opera, classical music, art, and history. He especially enjoyed his weekly "Gentlemen's" luncheon. A memorial service will be held Saturday February 18, 2017 at 4:00PM at Zion Lutheran Church. A reception will follow the service at the Fallon Home. Memorial contributions in lieu of flowers may be made to the Classical Music Concert Series at the Floyd Center for the Arts, 220 Parkway Lane, S., Floyd, VA. 24091 (540) 745-2784.
---
Guest book
Sylvia Waters
Floyd,Va
February 09, 2017
Linda...so sorry for your loss...you and your family are in my thoughts and prayers...
---
Sally S. Rugaber
Meadows of Dan, VA 24120
February 09, 2017
Walter and I loved Ed, wished we had known him longer, and cherish the memory of his cheerful spirit and marvelous smile. What a fine, generous person and wonderful friend. We will greatly miss him.
---
Amy Adams
Floyd, VA
February 09, 2017
I looked out the window just now and saw a a mostly full moon. For some reason, I always look at the night sky when someone passes. I remember you from the JAX days and bumping into you around town. Thanks for settling in Floyd. I am certain that Floyd is better off from having you here.
---
Tina L Hanlon
Ferrum, VA
February 10, 2017
How many people from rural Virginia can say they met Ed for the first time when they showed up to stay overnight with him and Linda in East Berlin (after winning a raffle at the art center in Floyd)? Those beautiful concerts in Floyd and the fabulous trip to Berlin are among my best memories of the past five years. Ed will be missed but his generosity and good works have enriched the lives of many.
---
David Park
Salt Lake City, UT
February 11, 2017
My Condolence to the family, Edward was a warm and caring person.
---
Donayre Family
Pottersville, NJ
February 12, 2017
"When someone you love becomes a memory, that memory becomes a treasure." In fond remembrance of our dearest treasure, Jay, Ashley, Olivia & Ryan
---
Edward J Handler,III
Darien,Ct
February 15, 2017
Jane and I were shocked and extremely saddened to learn of his sudden passing. Our prayers and condolences go out to Linda and the whole family. Ed was a perfect gentleman of the old school, caring ,polite,thoughtful,bright and considerate. He will be missed by all who got to know him. Ed&Jane Handler
---
Dianne Maughan
Meadows of Dan, VA
February 17, 2017
My heartfelt condolences to Linda and the family on the loss of a wonderful man. You don't know me but I have been so grateful for the gift of classical music the two of you brought to Floyd. And for all the other community work Ed did. A great example for the rest of us.
---
David Fallon
New York, NY
February 23, 2017
My mother, Mary Ann Fallon, and her sons, Edward Hughes Fallon and David Fallon (Andrea) and daughter Johanna Fallon Reinhardt (John) mourn the passing of our father. Tonight he sleeps with the angels. May God bless all those who knew him and loved him.
---
Bruce and Barbara Jentleson
Durham NC, Floyd Va
February 24, 2017
Linda, Barbara and I haven't been in Floyd for a few months and just read in the Floyd Press about Ed's passing. We send you and your family our very best wishes, and hope to see you in the coming months. All best, Bruce and Barbara Jentleson
---
Sign the Guest Book for Edward William Fallon