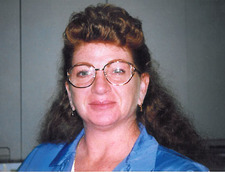 Edna Rae Allen
September 28, 1956 - February 13, 2017
Edna "Rae" Allen, 60, of Copper Hill passed away on Monday February 13, 2017 with her family by her side. She is preceded in death by her son: Anthony Paul Allen; parents: Helen Elnora Shelor, Lewis Coleman Shelor; Sister: Karen K. Harrison. She is survived by husband of 44 years: Paul Allen; daughter: Amy Rae Allen; son & daughter-in-law: Justin & Ashley Allen; two grandchildren: Abigail & Alivia Allen; three sisters: Sharon L. Callahan (Bill), Mary R. Perdue (Huey), Beverly A. Coles; one brother: Henry L. (Hank) Shelor; uncle: Kenneth R. Woodford (Linda); and numerous nieces and nephews. Special sister-in-law: Peggy Allen. Funeral services will be held on Friday February 17, 2017 at 2PM at Gardner Funeral Home with Pastor David Place officiating. Interment will follow at Restvale Cemetery. Friends may call after 2PM Thursday February 16, 2017 at Gardner Funeral Home where the Family will be from 2-4 PM & 6-8PM. Thank you to Lewis-Gale Salem 6 West & Good Sheppard Hospice. A special thank you to co-workers & Friends for all the love & support they gave through her battle.
---
Guest book
Brian and Amber Woodford
El Paso, TX
February 14, 2017
To family and friends: we are saddened by her passing and regret we will not be able to make the trip in to visit with you all during this time of grief. You all are in our thoughts and prayers.
---
Jessie G
Roankoe va
February 14, 2017
May God walk with you all in your time of need and shower you with love in the days to follow. Rae was a wonderful woman and touched us all in so many ways. May her love be spread to each and every one of you during this time and forever from here on out. And just remember if you're looking for her, just look down and to the left and in your heart she will be. May God bless her family and friends and fill their hearts with nothing but the wonderful times she had with you all! Sincerely Jessie
---
Beverly Coles

February 15, 2017
Rae, I love you with all my heart. I couldn't have ask for a better Sister! You will and are missed so much!
---
Rena Smith
Roanoke
February 15, 2017
Rae was my friend and coworker for over 20 years. She was a wonderful lady and came to work everyday with a smile on her face. A true inspiration!! She made a profound impact on me. Miss and love you..
---
Elaine Lambert

February 16, 2017
I wanted to express my heartfelt condolences to Edna's family. There's such a sense of helplessness when someone we love dies. I'd like to share some scriptural thoughts that really helps me. Prayer is so valuable at this time but it's not that prayer simply makes us feel better. 2 Cor.4:7 says that God can give us, "... power beyond what is normal ", to go from one day to the next. This does not mean that we no longer cry or that we forget, but it means we recover. The reason we recover is because of our hope. Jesus Christ talked about our hope in John 5:28, "... all those in the memorial tomb will hear his voice and come out ". Jesus was referring to the resurrection, this is our amazing hope. 2 Cor.1:3 describes our Creator as, "... the God of all comfort ". One way that God comforts us is by moving people who care about us to give us words of encouragement that we need to hear. May the God of comfort (Ps.83:18) be your comfort now during this time of sorrow.
---
Pamela A. Rumburg
Check
February 16, 2017
So sorry to hear of Rae's passing. You all are in my prayers.
---
Richard Furrow
Floyd,va
February 16, 2017
---
Sharon Hartman
Salem, VA
February 16, 2017
So sorry about Rae. I am at our Minister's Summit this week and will not be able to attend the funeral. I saw her Saturday. Praying for the family that God will be with you at this time.
---
Polly Vincent
Boones Mill VA 24065
February 19, 2017
So sorry for your loss. Prayers for the family
---
Paula Melendez (Allen maiden name)
Charlotte, NC
January 08, 2019
I worked with Rae at Lewis Gale Clinic and just learned of her passing so I had to reach out and express my heartfelt sympathy. I loved working with Rae, she was so genuine and I will truly miss her. Rest in peace my friend. Paula
---
Ruth Lackey
Cleveland
June 16, 2021
I had not seen Rae for years and was deeply saddened by the news. She was greatly loved by everyone. My thoughts and prayers go out to her family.
---
Sign the Guest Book for Edna Rae Allen