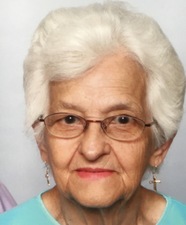 Laura Agee Huff
March 08, 1931 - March 14, 2017
Laura Agee Huff, age 86, of Floyd went to be with the Lord Tuesday morning March 14, 2017. She was preceded in death by her husband Curtis Allen and son David Allen. She is survived by her children four daughters Dianne Woollums, Myrtle Beach, S.C.; Mrs. Becky (Bruce) Dickerson, Asheboro, N.C.; Mrs. Wilma (Greg) Simmons, Glade Hill, V.A.; Mrs. Cindy (Bruce) Rose, Sontag, V.A.; two sons Glen D., Christiansburg, V.A.; and Alvin D. (Fiancée Tammy), Rocky Mount, Va.; Sister Lucinda A. Harmon, Floyd, V.A.; 11 Grandchildren and 9 great-grandchildren. Funeral services will be at 1pm Friday March 17, 2017 at Gardner Funeral Home with Pastor Mike Vest and Dr. Bruce Dickerson officiating. Friends may call after 6pm on Thursday March 16, 2017 where the family will be from 6-8pm. Interment will be at Lee Cemetery in Tuggle's Gap.
---
Guest book
Patsy East
Floyd, Va
March 15, 2017
So sorry for your loss. May God give you comfort at this difficult time.
---
Ben Harmon
Olive Hill, KY
March 16, 2017
To Laura's Family, My sincere prayers of comfort in your great loss.
---
Dot Bolt
Willis.Va
March 16, 2017
So sorry for the loss of your Beautiful Mother Prayers for all. Dot
---
Maynard and Ruby Huff
Patrick Springs, VA
March 16, 2017
So sorry to hear of Aunt Laura's death. May God grant you peace and comfort during this most difficult time.
---
Sign the Guest Book for Laura Agee Huff