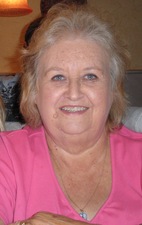 Shelia D. Zeman
May 23, 1943 - April 03, 2017
Sheila D. Zeman, 73, of Alum Ridge, passed away peacefully on April 3, 2017, surrounded by her family. She was born May 23, 1943 in Mooresville, NC, daughter to the late Marvin Deaton and Nannie Fred Deaton. Her precious son-in-law Leslie Conner, whom she adored, precedes her in death. She enjoyed gardening, canning and cooking for her family that she so cherished. Her loving, nurturing, compassionate nature toward all she knew and the kindness she exhibited to her family was the greatest gift she gave to all her loved ones. Sheila's legacy as devoted wife, loving mother, grandmother, caring sister, aunt and friend to many will be infinitely missed. She is survived by her beloved husband of 54 years Thomas Zeman of Alum Ridge; her children, son Shannon Zeman (wife Sharon Zeman) of Willis, daughter Shawn Conner of Check, son Brian Zeman (wife Shelleen Zeman) of Goodview and son Michael Zeman (wife Leigh Ann Zeman) of Alum Ridge. Also, she is survived by her adored grandchildren, Jessica Zeman, Victoria Bergman (husband Daniel Bergman), Blake Conner, Haley Zeman, Audrey Zeman, Joshua Fultz (wife Tori Fultz), Kristin Fultz, Madison Zeman, Bethany Zeman and great-granddaughter Ellie Fultz and by her sister Sharon Henson (husband Roger Henson) of Cornelius, NC and brother Stephen Deaton (wife Liz Deaton) of High Ridge, Missouri and many nieces and nephews. Visitation will be Friday April 7, 2017 from 5 p.m. – 8 p.m. at Gardner's Funeral Home in Floyd, VA and the memorial service at Gardner's Funeral Home Chapel on Saturday April 8, 2017 at 11 a.m., followed by a burial service at Topeco Church of the Brethren Cemetery. The services will be officiated by Reverend Jeff Dalton and Reverend Ted Turner Jr.
---
Guest book
myra helm
floyd
April 05, 2017
You all are in our thoughts and prayers.John and Myra Helm
---
Wesley & Lisa Thompson
Wiilis & Salem Virginia
April 05, 2017
So sorry for your loss and thinking of you all at this difficult time. You are in our prayers
---
Cecil & Elaine Handy
Riner, VA
April 05, 2017
We are so sorry for your loss. Our thoughts and prayers are with you.
---
Gina Price
Mt Holly, NC
April 05, 2017
To Sheila's dear family: What a precious angel on earth...a joy to know and a treasure always, what a legacy she leaves for each of you !! I am so very very sorry, and pray the God of all comfort cradles your broken hearts as only He can. I am thankful to have known and loved such a sparkling jewel in this world, and send my heartfelt sympathy to those who adore and miss her.
---
Diane McBroom
Floyd
April 06, 2017
Sending thoughts and prayers to the entire Zeman family.
---
Violet Darby
Floyd
April 06, 2017
I was so sorry to hear of your mom's passing. Please accept my condolences at this time to all your family.
---
Terry and Dill Arbogast
Floyd
April 07, 2017
Sorry for your loss. Your family is in our prayers
---
Steve McCloud
Check
April 07, 2017
Our sympathy and prayers goes out to family and friends.
---
Donnie and Brenda Pratt

April 08, 2017
We are very sorry for your loss, Shelia was a kind and lovely person.
---
Regina Cox
Floyd
April 11, 2017
I had only begun to know Shelia, but yet her winning smile and pleasant demeanor won me over and inspired me any time I was over to help her with Physical Therapy. Will keep family in my prayers as well as her wonderful caregiver, Candy, who I know cared a lot for her.
---
Sign the Guest Book for Shelia D. Zeman