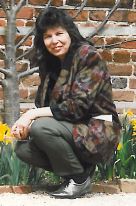 Barbara Jean Harrison
November 13, 1940 - April 04, 2017
Barbara Jean Harrison, 76, of Roanoke, passed away Tuesday, April 4, 2017. Barbara was born in Floyd to the late Warren C. and Ilene Weeks Belcher. She is survived by her beloved daughter Diona, two spoiled cats, and brother Loy Belcher. Barbara was a sweet and funny lady who left a wonderful impression on everyone she met. She found great joy in gardening and tinkering with her vintage treasures. Barbara spent 30 years in the D.C. area, partnering to build multiple successful businesses, but she rather enjoyed her second career at Roanoke Antique Mall. Her caring and generosity will truly be missed. Many thanks to those at Emily Couric Cancer Center & UVA Medical Center, Blue Ridge Cancer Care & Roanoke Memorial Hospital, who fight Leukemia every day. Family will receive friends from 6-8 Friday April 7, 2017 at Gardner Funeral Home. A graveside service will be held on Saturday April 8, 2017at 3pm at Laurel Branch Cemetery with Pastor Angela Carr officiating.
---
Guest book
Darren Potter
Roanoke
April 06, 2017
While we were neighbors for only a short time, she was always kind...even to our dogs who occasionally escaped from our house and ventured into her yard. There were many days when a "mysterious" delivery of vegetables would appear on our door; the kind of act neighbors did when I was a child. I regret not getting to know her better. I am sorry for your loss, Diona. When help is need, please know that we are just a door-knock away.
---
Gail Godsey
Roanoke
April 07, 2017
Barbara was always friendly and upbeat whenever I was at the Antique Mall. My condolences on the loss of your Mom/Sister.
---
Beatrice Reed Akers
Christiansburg, VA
April 07, 2017
I am so sorry about Barbara. Your family is in my thoughts and prayers.
---
Please allow me to offer my condolences to the family with these comforting words based on Revelation 21:3-5:" Look! The tent of God is with mankind... and God himself will be with them. And he will wipe out every tear from their eyes and death will be no more neither will mourning nor outcry nor pain be anymore. The former things have passed away...these words are faithful and true." I hope this scriptures bring you some comfort during this difficult time.
---
Sign the Guest Book for Barbara Jean Harrison