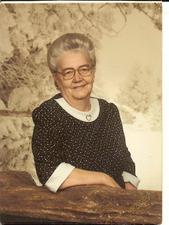 Rheba Light Link
October 20, 1914 - November 19, 2010
On November 19, 2010, our dear mother, Rheba Light Link, of Check, took her Savior's hand, and left her earthly family to claim her reward in heaven. Rheba Light Link was born October 20, 1914 in Floyd County, Virginia to Henry Jacob Light and Tempie Elizabeth Vest Light. She is the last surviving member of her family of nine siblings: Lacie (Archie) Vest, Harlie (Arlin), Hubert, Hulen, Roy (Norma), Carson(Hazel), Doy (Arlie), Clara and Louise. Many beloved nieces and nephews on the Link and Light side have been an important part of her life. On December 18, 1932, Rheba married Joseph Conner Link. They were married 31 years until Joe was taken from her and the family by a heart attack on November 18, 1963. To this union there were eight beloved children: Joan (Harless) Akers, Betty ( Ike) Reynolds, Mary (Cleve) Richardson, James (Peggy) Link, Danny Link, Brenda (Carl) Hungate, Paul Link, Allen (Pat) Link, and foster daughter, Joyce (Chris) Whittaker. Also left to cherish her memory are beloved family friends, Nancy Altice and Linda Pollard. Also preceding her in death were daughters-in-law Darlene Link, Brenda Jenks, and Karen Shepherd and sons-in-law, Ike Reynolds and Cleve Richardson. Rheba was called Granma by 29 grandchildren, 61 great-granchildren, and 25 great-great grandchildren. Funeral services will be conducted at 11:00 a.m. on Monday, November 22, 2010 at Gardner Funeral Home Chapel with the Reverend Glenn Griffith officiating. Interment will follow at the Iddings Cemetery at Terry's Fork. Friends may call at Gardner Funeral Home on Sunday after 12:00 p.m. where the family will be from 3-5 p.m. Condolences to the family may made be at www.gardnerfuneralhomefloyd.com.
---
Guest book
Donna Aldridge Hall
Vinton , VA.
November 20, 2010
My deepest sympathy to the family. You have all been a very big part of my family and we have all made many wonderful memories together, I loved Reba very much and will never forget walking up to her house many times while growing up. She was a very special lady and will never ever be forgotten. Love and Prayers to you all.
---
Darlene Hylton
Willis, VA
November 20, 2010
I remember meeting Mrs. Link at Allen's home several years ago. She was a very pleasant, gracious lady. Rejoice for her that she has completed her earthly journey and has gone home. To live that many years, I know she had many hard times and I am sure you all loved her dearly, but she has earned her heavenly rest.
---
Jo Alderman
Radford, VA
November 20, 2010
Sincere Sympathy to you and family at this sad time. My thoughts and prayers are with you.
---
Carlos Ray Vest
Puyallup, WA
November 20, 2010
To my wonderful and adored aunt. You have been my beacon for as long as I can remember. You will be missed, but as we all know, there will be a reunion at another time and place. Until then, you will be missed. Peace be with you until we meet again. Carlos Ray
---
Edna Amos Lutz
Salem VA
November 21, 2010
Rheba was a very special person. She took in my mother and my half brother many years ago when they had no where else to go. I don't know exactly when (I think my brother was about 4) nor do I know how long they stayed with her. I have always been grateful that she did that. I have met her many times at the Vest reunion in Floyd and she was truly a christian lady. God has a very special place for her. My prayers are with the family.
---
Jennifer Davis

November 21, 2010
You and your family are in my prayers.
---
Bill Wash
Roanoke VA
November 21, 2010
Danny, Our thoughts and prayers are with you at this difficult time. Bill& Heather
---
Janice Miles
Riner, Va.
November 22, 2010
I am so sorry to hear about your Mom and Grandmother. She was a special Lady. I loved her. I will be praying for the entire family. May God bless you all.
---
Melanie Bishop
Norcross, GA
November 24, 2010
Grandma Link will be missed. I am sorry that I couldn't be there to say goodbye. You are in my heart and mind always. To all of my family, you are in my thoughts and prayers.
---
Sign the Guest Book for Rheba Light Link