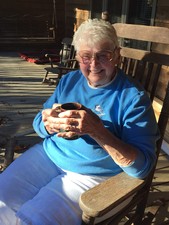 Patricia B. Mitchell
August 31, 1937 - April 21, 2017
Patricia B Mitchell, 79, of Check, passed away Friday April 21, 2017. She was preceded in death by her husband: Ralph Mitchell; one great granddaughter Brooklynn Mitchell. Mrs. Mitchell is survived by her daughter: Delores Willie (Chris) four sons: Ralph Mitchell (Tanya), Randy Mitchell, Mike Mitchell (Tina) and Tony Mitchell: 7 grandchildren, and 7 great grandchildren including her Little Buddy Arlen "Doings" Elder of Floyd VA. Twin Brother Patrick Bertram, Sister Marianne Olcott. Funeral Services will be Sunday April 23, 2017 at 3 PM at Gardner Funeral Home with Rev. Leon Wood officiating. The family is being served by Gardner Funeral Home.
---
Guest book
Jeanette Irvin Wood
Fayetteville, Va
April 23, 2017
To Pat's family. I worked at Pendleton Construction in the 70's and came to know and love Pat. We used to send Christmas cards but lost touch. I was saddened when I saw her obit in the Roanoke Times this morning. The first banana cake I tried was made by Pat and it was delicious. Deepest sympathy to everyone.
---
Jeanette Agnew
Floyd,Va.
April 23, 2017
Pat was a very special lady, and one I have been very glad to call my friend as well as sister in Christ. I hate very much that I was unable to attend her service.I have been under the weather for 3 weeks myself, and no one would have benifitted from me being there and coughing over and over again during the service.May God be with each of you in the way that each one needs his love and encouragement.
---
Todd Edward Dearing
Pilot, Va
April 25, 2017
To the entire Mitchell your sweet mother was an Angel on Earth and now she is a Angel in Heaven where the streets are paved with Gold My Condolences to the wonderful Mitchell Family. Love you always
---
Sign the Guest Book for Patricia B. Mitchell