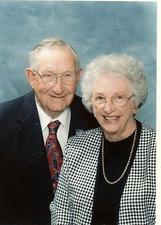 Katie Flinchum Walters
October 17, 1922 - November 30, 2010
Katie Flinchum Walters, 88 of Pilot, went to be with the Lord on November 30, 2010. She was preceded in death by her beloved husband of 63 years, Rasie Walters, and a nephew and niece, Vernon and Phyllis Nolley. Survivors include her sister, Ruby King; niece Connie Walls, nephews and spouses, Paul and Elfreeda Duncan, and R.B. and Marilyn Duncan; niece, Wanda Nolley; great-nephews and great nieces and spouses, Gary and Rhonda Duncan, Gerald and Sharon Duncan, Martha and Gene Miller, Kimberly and Randall Nester, David and Edith Anne Duncan, Corey and Susan Nolley, Shawnee and Terry Fenton, and Lynette and Bryan Vest; numerous great-great nephews and great-great nieces. Funeral services will be conducted at 11 a.m. on Friday, December 3, 2010 at Huffville United Methodist Church with the Reverend Darren Landon and Pastor Dan Walker officiating. Interment will follow at Huffville Cemetery. Friends may call after 5:00 p.m. on Thursday at Huffville United Methodist Church where the family will be from 5-8 p.m. The family wishes to give special thanks to Cline and Diane Wimmer for all of their help and loving care, and to several special friends and neighbors who are too numerous to name. In lieu of flowers, please make a donation to a charity of your choice in memory of Mrs. Katie Walters. Condolences to the family may be made at www.gardnerfuneralhomefloyd.com. Arrangements are being handled by Gardner Funeral Home, Floyd.
---
Guest book
Karen & John O'Connor
Newnan, GA
December 01, 2010
Our deepest sympathy to the family of Katie. She was so sweet and had such a wonderful attitude toward life. I will always remember her laughter.
---
Ruth F. Blackwell
Pilot, Va.
December 01, 2010
So sorry to hear of the passing of Katie. At this time of sorrow may the truths sustain you...your loved one will always be as close as a memory and the God of all comfort will always be as close as a prayer. With deepest sympathy, Ruth Flinchum Blackwell Sue & Gary Blackwell
---
Iris Tucker
Christiansburg, Va.
December 03, 2010
I am so sorry to learn of passing of Katie. Rasie and Katie were special people and I know how much Ms.Duncan thought of them.... my sincere sympathy is extended to the Duncan nieces and nephews and all family members.
---
Sign the Guest Book for Katie Flinchum Walters