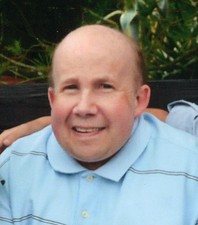 Christopher "Chris" Conway Warren
October 01, 1970 - July 22, 2017
Christopher Conway Warren, age 46, of Christiansburg, passed away on July 22,2017 at Heritage Hall Nursing Home in Blacksburg Va. Chris spent most of his life fighting to stay alive and is now at peace. He is survived by his grandmother Katie Wilker; his mother, Kerry Warren; his brother Jamie Warren and his family Jessica, Jaxon, and Asa; and his sister Lindsay Moose and her family Josh and Liberty Moose. Chris had a personality and a smile that were larger than life. Although he may have had reasons not to be, Chris was always happy. Chris was quick to remind you that your problems were nothing compared to what he had overcome and that life could always be worse. He made the best of every situation and truly tried to help others see the good in the world. Chris impacted every person he encountered and will be remembered by people he had long forgotten. Anyone that had the pleasure of meeting Chris became a better person because of it. He loved God, his family, Duke basketball and Virginia Tech football. The family wants to say thank you to every hospital, doctors office and nursing home Chris has ever visited. His quality of life was improved by their dedication. The family will receive friends at Gardner's Funeral Home on Tuesday July 25, 2017 from 5 pm-8 pm. a small private graveside service will be held at a later date. In lieu of flowers, please make donations to Duke University Children's Hospital 710 W. Main St., Suite 200, Durham, NC 27701. Online condolences may be made at www.gardnerfuneralhomefloyd.com, or on Facebook @gardnerfuneralhomefloyd.
---
Guest book
Shana Griffith
Christiansburg, VA
July 22, 2017
I am so sorry to hear about Chris. During my teens he was my partner in crime. When you saw one of us around the apartments you always saw the other. If I complained he would say, "at least you have hair" and laugh that wonderful laugh. I praise God Chris is finally well and no more pain. See you soon, my friend. I loved you then and I love you still.
---
Todd Edward Dearing
Floyd, VA
July 22, 2017
Our thoughts and prayers are with your family in their time of need. Rest in peace my friend.
---
Sarah abbott jackson
Radford , va
July 22, 2017
I met chris my eighth grade year at floyd county high school. Chris had a infectious smile and a great smile. He never missed one of Jamie's games. He was in school when my sisters were in fchs
---
Stephanie Lewis
Floyd,Va
July 22, 2017
So sorry for your loss. Thinking of all of you. Chris will be dearly missed.
---
Sharon flesher

July 22, 2017
Kerry and family I'm so sorry Chris was a special young Man always had a smile on his face my prayers are with you all love Sharon and Jim Jared and Joe flesher
---
Vicki Winters
Christiansburg
July 22, 2017
I went to school with Chris. I am so sorry about his passing. My thoughts and prayers goes out to his family and many friends that he had. He truly had a lasting impression on anyone who met him. He will truly be missed.
---
Lyndsay Kahler Ermeling
Gilbert, AZ
July 22, 2017
In my 43 years of life, my sweet cousin Chris was the strongest individual I have every been privileged to know, let alone call my my family. From the time I remember meeting him for the first time, he was always fighting an uphill battle with his health, but his attitude and perspective on life put all of us to shame. He was the most-Christlike person - patient in affliction, joyful in suffering, always focused on JOY in the here and now, and NEVER weighted down by the silly, insignificant worries that seem to consume all the rest of us. I rejoice that he is in heaven with Jesus - free of pain and suffering - and I know that his life will continue as a legacy and example of what REALLY matters. Angels rejoiced and threw a party today when Chris went to heaven, and I can absolutely see Jesus opening his arms to Chris and saying, "Well done, my good and faithful servant." Kerry and all, We love you so much and are holding you close in our prayers!
---
Ronnie & Jennifer Gibson
Floyd, VA
July 23, 2017
A great man who will be missed.
---
Jeanette Agnew
Floyd
July 23, 2017
My heart goes out to each of you , as once more you have had to say "Good Bye " to another dear loved one . Chris has had such a long battle, and all of you have been right there with him , giving him the encouragement that he needed at the time. No one could ever say that he was a quiter , nor were any of you. Jamie , you were only 2 years old when his battle began , but you became one of his most valued helpers . I STILL LOVE ALL OF YOU, NANNY NETTE
---
David huff
Staunton va
July 23, 2017
I'm so sorry to hear this. Chris was a wonderful person. I remember well a lot of conversations we had. He always could make me smile and was always happy. Rest In Peace my friend. Prayers to all the family.
---
Mark alderman
Floyd
July 23, 2017
I am sorry for you loss. He was truly a great person, and I am glad I had the pleasure to know him.
---
Amy Coulehan
Rocky Mount, VA
July 23, 2017
This here put a smile on everyone's face. Chris had the heart of a lion and peaceful soul of a lamb. His sense of humor always gave me a giggle and his courage was steadfast. I was blessed to have gotten to know Chris and his inspiring spirit. Walk with the Angels Chris. Peace be with you and your family.
---
Rev. Richard & Diane Giessler
Floyd, VA
July 24, 2017
Kerry, Jamie and Lindsay, Although we've not had much contact in recent years, we never forgot you all, especially Chris. It was such a privilege to know him and to witness his sunshine personality and unwavering faith. We were also shocked to learn about Ross passing recently. It has been hard for me keeping up with all the goings-on what with Dick at Skyline Nursing Home following his stroke in March of 2016. Life goes on however and we make the most of it. Just wanted you to know we are feeling your sorrow and offer our heartfelt sympathy. Blessings and Peace in Christ, Dick and Diane
---
Kristel (Kahler) Ashcraft
Glendale, AZ
July 24, 2017
My childhood is filled with so many fun memories of my cousin Chris. He was an example to everyone, always had a smile & a kind word!!! He was there for all of our events, with a hug & encouragement! He loved life. I'm blessed to be a part of his amazing family. Love you Lindsay, Jamie, Kerry, & Aunt Katie. My heart is with you guys❤
---
Nanette Johnson
Fort Mill, SC
July 25, 2017
Chris was always such a bright light. The obituary is beautiful. He tried to take everyone he met on a brighter path. His smile and positive attitude will be greatly missed by many. Deepest sympathy. Nanatte Johnson and family
---
Terry and Dill Arbogast
Floyd
July 25, 2017
Sorry to hear of the passing of Chris. Keep the faith
---
G.C.& Rhonda Spangler
Floyd
July 25, 2017
So sorry for your loss, enjoyed all the times I was around Chris.He was a great person,may God bless you and your family.
---
Richard and Nancy Kahler
Phoenix, AZ
July 25, 2017
Chris was a very special part of our family memories. His smile and laugh could light up any room and he always made everyone feel wonderful. All four of our girls loved him so very much. We are so very grateful that he is resting now in the arms of Jesus. We are sending our love and sympathy to Kerry and her family and to our sweet Aunt Katie. We love you all. Joy in Jesus, Rich and Nancy
---
Leanna (Kahler) Butterfield
St. Louis, Mo
July 25, 2017
What a gift Chris was to us and to all those that he came in contact with. God gave him a trendous gift to love p easily. When I think of the time I spent with him it is a memory filled with smiles, hugs, laughter. He was a part of so many big milestones in my life - and so many simple childhood moments. Kerry - we love you and are praying as you grieve your precious son. God will definitely give you the strength! Lindsay and Jamie - Hugs to you both too. I am always sad that life has taken us away from those simple days in Southern California as you both too are cherished parts of my history. You are in our prayers as well. Love to you all. You loved Chris so well... his life was so rich and full because of you. Hug Aunt Katie for me. May God's great big arms hold you all close. Love, Leanna ( and Jon, Madison, Samuel, Hudson, Savannah and Sadie)
---
Cathy Sowers
Christiansburg,va
July 30, 2017
Chris was a miracle in himself. What Dr.s said never really applied to him. God gave him to you and now he wants him home. I'm sorry for your loss but also happy for the miracle of Chris. Kerry know I'm thinking of you.
---
Sign the Guest Book for Christopher "Chris" Conway Warren