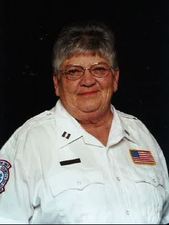 Patricia Badon Burton
March 25, 1941 - August 25, 2017
Patricia Badon Burton, 76, of Dugspur, VA, passed away Friday August 25, 2017 at her home. She graduated from New Hanover High School and James Walker School of Nursing where she received her RN degree. She had her EMT and served the community thru the Dugspur Rescue Squad, Carroll County Search and Rescue, SWVA Medical Reserve Corps, and International Project Lifesaver. She was a member of St. Matthews & Zion Lutheran Church. Patricia is preceded in death by her husband, Joseph Henry Burton. She is survived by her children: Patricia Kaye Burton, Joseph L. Burton, Cathy L. Burton, John D. Burton, and Stephanie Burton Blankenship; seven grandchildren: Jennifer Burgner, Will Blankenship, Kellie Burton, Steven Bryant, Mandy Hutchinson, L.B. Burton, Molly Burton, Daisy Burton; great-grandchildren: Brandon, Ella, Kaitlyn, Jayden, Chloie; Special friend and companion: Red Man Burton. Funeral Services will be Wednesday August 30, 2017 at 12 noon at Zion Lutheran Church with Pastor Linda Motley officiating. Interment will follow in the church cemetery. The family will receive friends on Tuesday August 29, 2017 from 6-8pm at Vaughn-Guynn-McGrady Funeral Home in Hillsville, and at Zion Lutheran Church at 11am Wednesday August 30, 2017. Flowers are appreciated or donations may be made to Dugspur Community Center, C.O. Karen Worrell 577 Panther Creek RD, Dugspur, VA 24325.
---
Guest book
Kaye Burton

August 27, 2017
I love you my nanny. Forever
---
Becky Lamb Howard
Wilmington, NC
August 29, 2017
I remember Pat growing up at St. Matthews. Of course her Mama was a legend to us there and I came to see Pat as a devoted daughter. Prayers to all of you as you grieve.
---
Carolyn Batson Evans
Wilmington NC
August 31, 2017
Pat and I were classmates in nursing school. I seen her over the years and we caught up with each,. I wish to send my condolences to all the children and grandchildren. I know she will be missed. Carolyn B. Evans
---
Sign the Guest Book for Patricia Badon Burton