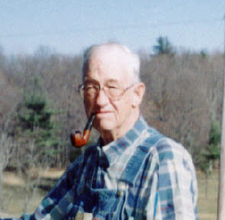 Lowell Harmon Boothe
February 10, 1926 - September 17, 2017
Lowell Boothe was born in Floyd County to Leonard T and Cassie Mannon Boothe. He served in the Army in World War II in India. He attended Bridgewater College where he met the love of his life, Pat Boothe. He graduated from Virginia Polytechnical Institute in 1950. Lowell and Pat married in 1951 and taught school in Check, Virginia for a few years. Pat and Lowell, along with their two small children, moved to the Pacific island of Saipan to teach native students for the Naval Administration. After four years on Saipan they taught on the islands of Chuuk and Yap. In 1966 they moved to South Dakota to teach at the Flandreau Indian School until their retirement. In 1980 they moved back to Floyd to live on the Boothe Family Farm. In addition to farming, Lowell served as a County Supervisor for two terms and was active on various boards and committees. He participated in Med Ride, Share, and other volunteer activities. Lowell was an avid reader and was in his element wearing his overalls and smoking his pipe. Lowell was predeceased by his beloved wife of 64 years, Pat Boothe. He is survived by daughter, Sue Anne Boothe; son and daughter-in-law Gary and Monique Boothe; and grandchildren, Robert and Dominique Boothe; and his sister and brother-in-law Marie and Robert Daniel; and niece, Laura Daniel; niece and husband, Tina and Sterling Borger; nephew and wife, Paul and Sherrie Myers; and niece, Tanny Myers; and great nieces and great-great nieces and nephews. The Boothe family would like to express their appreciation to the staff at Skyline Manor Nursing Home. Visitation will be held at 10:00 a.m., Saturday October 7, 2017, at Laurel Branch Church of the Brethren. A Memorial service will follow at 11:00 with Pastor Angel Carr officiating. Online condolences may be made at www.gardnerfuneralhomefloyd.com , or on Facebook @gardnerfuneralhomefloyd. Anyone wishing to make a gift of remembrance in Lowell's honor are asked to consider the Floyd County Rescue Squad.
---
Guest book
Sheila West
Floyd,VA
September 28, 2017
Lowell was a very special gentleman. I worked with him on the New River Community Board of Directors for 13 years and he will truly be missed by us all.
---
Danny and Kendra Chaffin
Floyd, VA. 24091
September 28, 2017
We wanted to send our deepest condolences to you and your family for the loss him. Lowell was a very fine man and our family thought a lot of him and your family. If you should ever need anything please let us know. I know he is rejoicing in Heaven and singing the Praises of the Lord.
---
Terry Smusz
Floyd/Radfore
September 28, 2017
Lowell will be remembered as a dedicated member of the New River Community Action Board of Directors, a man of generosity and heart for the disadvantaged residents of Floyd County. A life well-lived! With deepest sympathy to the family, Terry Smusz, CEO, New River Community Action
---
Jonathan turner
Vinton va
September 28, 2017
Lowell was truly a great man. I have hunted on his property for over 25 years and my kids now do as well. He always would take the time to talk to my kids and even maybe sit on the porch and eat an apple or two with them. Since I was young I loved bringing him some molasses or honey, and listening to his stories. My heartfelt condolences to his family, but I know everyone he knew were better people for knowing him.
---
Judy Clark
Hillsville va
September 29, 2017
Mr. Boothe was so kind and gentle. When I work at Floyd Farm Service he was always kind and never in a hurry. Later I met Pat and Sue Anne thru UDC and I told Sue Anne she was lucky to have such a gentle daddy. I know Pat and Our Lord are happy having his gentle soul in heaven. God Bless Y'all and I love Y'all Judy Clark
---
Genevieve Starkey
Orange, VA
September 29, 2017
Sue Anne, I'm so sorry to learn of Lowell's death. My sympathy to you and the family. God Bless.
---
Vicky Via
Roanoke, Va
October 02, 2017
Our thoughts and prayers are with you Sue Ann and your family.
---
Sign the Guest Book for Lowell Harmon Boothe