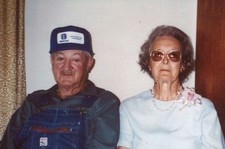 Herbert H. Belcher
November 21, 1928 - October 11, 2017
Herbert H Belcher, 88 of Meadows of Dan, VA passed away Wednesday October 11, 2017. Preceded in death by his wife Loveda Belcher. Survived by four Sons and Spouses Rondel and Shelia Belcher, Danny and Janie Belcher, Dale Belcher, Richard and Melissa Belcher, fifteen Grandchildren and fifteen Great-Grandchildren, two Sisters-in-law and Spouse Irene Smith, Shelby and Miles Harris, Several Nieces and Nephews. Funeral Services will be Saturday October 14, 2017 at 11:00 AM Gardner Funeral Home with Pastor Roy Turpin and Pastor Vinton Quesenberry. Interment will follow at Slate Mountain Presbyterian Church Cemetery. Family will receive Friends one hour before service time on Saturday. The Family would like to thank Skyline Nurses and Staff for the care Mr. Belcher received and special friends there Bill Carte and Winston Alderman. Online Condolences may be made at www.gardnerfuneralhomefloyd.com , or on Facebook @gardnerfuneralhomefloyd the family is being served by Gardner funeral home.
---
Guest book
Jean Belcher

October 12, 2017
I am so sorry for the loss of your dear loved one. May God bless you and give you peace is my prayer.
---
Beulah M Smith
Bradenton, Florida
October 13, 2017
So sorry for your loss.Much love and prayers for all the family
---
Jenzy McPeak Ryan
Collinsville, Va
October 13, 2017
You will be missed Uncle Herbert! Please give Aunt Loveda and Grandma Mae hugs from all of us! love, Jenzy and family. Until we see you again ❤️
---
Darrell Hollandsworth and family
Floyd, VA
October 13, 2017
---
James L Mcpeak
Bassett. Va 24055
October 13, 2017
So sorry for your loss he will be missed
---
Dan and Bea Hubbard
Floyd va
October 19, 2017
I still remember Herbert fishing the creek in Meadows of Dan. That is a good memory of Herbert.
---
Sandra Poff
Check VA
October 23, 2017
My prayers are with this family.
---
Sign the Guest Book for Herbert H. Belcher