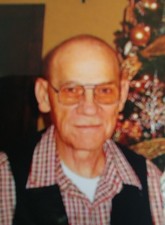 Lawrence Leon Underwood
July 06, 1939 - November 01, 2017
Lawrence Leon Underwood, 78, of Floyd went to be with the Lord on Wednesday evening November 1, 2017. He was preceded in death by his wife Ruby D. Underwood and infant son Ronnie Dale Underwood. He is survived by daughter and special friend Tammy Underwood and James Guilliams, son Terry Underwood, brother and sister-in-Law, J.C. and Gloria Underwood, sister Lucy Turner, several nieces, nephews and many special neighbors and friends, caregiver and special friend Chris Fones. Funeral services will be Sunday November 5, 2017 at 2:00 pm at Pleasant Valley Church of the Brethren with Pastor Roy Turpin officiating, Interment will follow in the church cemetery, the family will receive friends at 1:00 pm Sunday before the service. Flowers will be appreciated, or donations may be made to the Leukemia Foundation. Online Condolences maybe be made at Gardnerfuneralhomefloyd.com and on facebook @gardnerfuneralhomefloyd. The family is being served by Gardner Funeral Home.
---
Guest book
Jane Asbury
Christiansburg,Va..
November 02, 2017
Terry, I am so sorry to hear this. If there is anything you need give me a call.
---
Kim McDaniel
Christiansburg
November 02, 2017
Dear Terry and Family. My heart breaks for you and my prayers are with you. Kim
---
Caitlin
Christiansburg, VA
November 03, 2017
I was the volunteer with Intrepid that called every week for Laurence. I also work at Heritage Hall and knew Laurence from when he was there. I just want to give my deepest condolences to the family. I hope you all can find some comfort in knowing that he is no longer suffering and is in a much better place now. God bless you all.
---
Scott Smith
Snowville, VA
November 04, 2017
Terry, I am sorry about your Dad. I enjoyed knowing and working with him. My deepest sympathy to you and your family. If there is anything I can do, let me know. Scott
---
Sign the Guest Book for Lawrence Leon Underwood