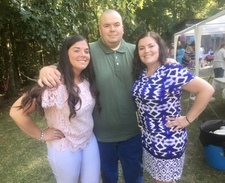 Michael James Early
November 02, 1983 - December 18, 2017
Michael James Early, 34, of Floyd was born November 2, 1983 and went home to be with the lord on December 18, 2017. Michael was known to be the most kind-hearted, thoughtful, and compassionate person. He cared deeply about his family, friends and target family. Michael was always known for his friendly smile. Michael adored spending time with his pet companions Luke and Hunter, he enjoyed playing video games, watching movies and conversing about sports. Proceeded in death by Grandfather; Martin Townsend, Great Grandfather; Ralph Pugliese, Great Grandmothers; Anna Williams, Evelyn Pugliese, Mary Early, Aunts; Carol Ann Townsend, June Andrews, Uncles; Joseph Townsend, Domonic Arcaro. Survived by Father; Ralph Michael Early, Mother; Julia Mary Early; two Sisters; Melissa Marie Early, Brittney Lynn Early, Grandparents; Carolyn Townsend, Merry and Frank Early, close Aunts; Patricia Jenkins and Trina Early, close Uncle; Martin Townsend Jr. and numerous Aunts, Uncles, Cousins and Friends. A memorial service will be held Saturday January 6, 2018 at 2:00 pm at Gardner Funeral Home. Family will receive friends from 12 to 2pm on Saturday January 6, 2018. Flowers will be appreciated, or donations may be made to the Floyd Co. Humane Society. Online condolences may be made at garnderfuneralhomefloyd.com or on Facebook @gardnerfuneralhomefloyd. Gardner Funeral Home is serving the family
---
Guest book
Aaron Losada
Radford, Va
December 19, 2017
I only got to know you for a short period of time, but I am more than thankful to have the pleasure of getting to know you for the time I did. Work will never be the same without you. Rest Easy buddy. We all miss you at 1292.
---
Chad Davis
Christiansburg va
December 20, 2017
Mike was a true friend was the first friend i made when i moved to christiansburg va. I will miss mike deeply won't be the same without gaming and seeing you at work.
---
Melinda Williams
Christiansburg, VA
December 22, 2017
I worked with Michael at Target for about 5 years. I saw him there just about every time I was in Target shopping since I left Target and he was always helping someone whether it be a customer or fellow employee. I will miss seeing Michael and saying hi. My thoughts and prayers go out to his family and friends. He will be missed!
---
Suzanne Oconnell
Floyd county
December 22, 2017
Ralph and Julie, I am so sad to hear about Michael. Doug and I have you and your family in our prayers.
---
Stanley Hawkins
Floyd, VA.
January 05, 2018
Micheal was a great and loving kid growing up. I consider it a honor to take part in his Celebration of Life. I feel he lived a pretty happy life and made many others have happy moments in their life with his smile and love for others. Love and prayer for Micheal and family. May the Lord uplift you.
---
Jane Irvine
Blacksburg
January 06, 2018
My heart is broken in that God would see fit to call Mike home so soon. We may not have always agreed, but there never was doubt in how Mike cared about his family, his friends, and his co-workers. Whenever I walkied Mike for help, he never hesitated to answer my call even when he was on a ladder. I can't tell you the number of times he patiently explained again how to do something that he had already explained at least once before. He will be greatly missed and Target will never be the same without him. Congratulations on earning you wings, my friend.
---
Sign the Guest Book for Michael James Early