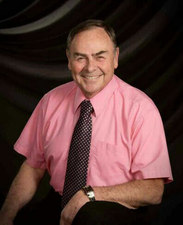 Barry Turner Smith
May 26, 1945 - January 08, 2018
Barry Turner Smith, 72, of Copper Hill, Virginia entered Heaven's gates to be with his Lord and Savior while surrounded by family and friends on Monday, January 8, 2018 at Lewis Gale Hospital following a hard-fought three year battle with cancer. We rejoice in his complete healing in Jesus and his Heavenly reunion with many loved ones who have gone before, especially in his reunion with his only child, Thomas Wayne Smith. Barry is the son of the late Dan and Mary Smith of Copper Hill. Left to cherish his memory are his loving and devoted wife of 52 years, Sue Smith and his loyal grandsons, Devin and Derek Smith of the home. He is survived by his twin brother Larry (Debbie) Smith of Check, Virginia and his sister Rita Smith of Willis, Virginia, many brother and sisters-in-law, numerous nieces and nephews, and friends who were like family. Barry was retired from New River Electrical Corporation in Cloverdale, Virginia after 30 plus years of dedicated service as a Mechanic and Fleet Manager. Barry was a faithful member of Copper Hill Church of the Brethren, where he served in many capacities, including, Sunday school teacher, driver of the church van for vacation Bible school ministries, serving on many committees, taking charge of the maintenance of the church van, and serving as a deacon for several years. He also served his community faithfully for many years as the neighborhood mechanic - a very talented and knowledgeable mechanic, who was always willing to lend a hand - something he greatly enjoyed all of his life and sorely missed when he was no longer able. Barry was an avid Earnhardt and NASCAR fan, and a die-hard Chevy enthusiast - being especially proud of his award-winning '67 Nova. Ford owners beware! Barry's family is grateful to Dr. Andrew Fintel and all the doctors, nurses, and staff at Lewis Gale Hospital and Blue Ridge Cancer Center for their care and to their many family members and friends who have visited, called, prayed for, and supported them throughout Barry's sickness and passing, truly demonstrating Christ's commandment to love one another as Christ has loved us (John 15:12). Funeral arrangements are being handled by Gardner Funeral Home in Floyd. The family will receive friends on Thursday, January 11th from noon until 8 p.m. at Gardner Funeral Home. The funeral will be officiated by Pastor Dan Johnson and Pastor Maurice Wright on Friday, January 12th at 2 p.m. at Copper Hill Church of the Brethren with internment immediately following.
---
Guest book
David Hammond
Charlotte NC
January 10, 2018
Sue, Derek, and Devin, Sorry we cannot be there for you, but know that we are there in spirit. We will continue to keep you in our thoughts and prayers. Will always think of you and Barry when we see a Nova (Best of the Best). Love David and Sandy
---
ORON CLEMMONS

January 10, 2018
---
Patsy East
FLOYD
January 10, 2018
SO SORRY FOR THE LOSS OF A GREAT FRIEND AND CLASSMATE...THE CLASS OF '65 WILL MISS YOU GREATLY..REST IN HEAVEN SWEET BARRY SMITH...PRAYING FOR PEACE AND COMFORT FOR THE FAMILY
---
Shelby Rich
Floyd, Va
January 10, 2018
---
Randy Tuck
Check
January 10, 2018
We are still praying for everyone. Love you Barry
---
Bethina Simpson Huddleston
Winchester
January 11, 2018
I am so sorry for the loss of such a dedicated family man and community friend. Growing up in Check, I have many wonderful memories of Barry as a teenager. I remember him often as he spent time in my father's store and as he worked at many jobs in our community. My prayers are with your family and hope that you can find comfort in the fact that he he is now resting with his Lord and Savior.
---
Becky Shilling
Rocky Mount Va
January 11, 2018
Steve and I are sorry for loss our thoughts and prayers are with you and the family
---
Jim & Karen Switzer
Salem, VA
January 11, 2018
Sue, No words can express our sadness for you in Barry's passing. We know he will be missed by many. He was always so much fun when we had NRE gatherings, including singing and dancing to "Fox on the Run." We cherish those memories. With much love and condolences, Jim & Karen Switzer
---
Billy Rakes
Shawsville Va.
January 11, 2018
Worked with Barry for many years he was a great guy.
---
Dr. Magdycz
Roanoke
January 12, 2018
Dear Mrs. Smith, You and your husband are in my thoughts and prayers. I am very saddened to hear of his passing, and will remember him for his wonderful sense of humor (and that great hat!) throughout this whole journey, and you as well for your grace and strength through it all. It was an honor to be a part of Barry's care. Sincerely, Bill Magdycz
---
Bobby & Linda Woods
Copper Hill, VA
January 12, 2018
---
Roger & Sherrie King

January 13, 2018
Sorry for your loss. Will always remember Barry and his everlasting smile. Was one of the good guys. Blessings to all the family.
---
Gail Conner
Dexel, NC
January 13, 2018
I was so sorry to hear about Barry, I loved him and you very much.......he was so sweet and good to me and a wonderful friend........I had been keeping up on how he was doing through Amy and knew he was not doing well................deepest sympathy for you and the boys.............I still miss you very much, love to you............
---
Sign the Guest Book for Barry Turner Smith