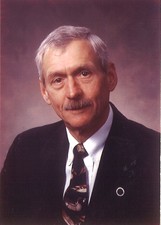 Peter Gerard Vandenberg
February 26, 1942 - February 09, 2018
Peter Gerard Vandenberg, 75 of Floyd, VA passed away peacefully in his home on February 9, 2018, after a courageous battle with cancer. Peter, or "Pete" as he was known to many of his friends, was born on February 26, 1942 in Blacksburg, VA to parents Henry Peter Carl "Van" Vandenberg and Mary Charlsie "Billie" Vandenberg. He was the 3rd of 4 children. He graduated from Blacksburg High School in 1960, and married his high school sweetheart, Sarah Bell Neily, in 1963. He earned a Civil Engineering degree from Virginia Tech in 1965. Upon graduation from Virginia Tech, he worked as City Engineer in Radford, VA. In 1966, he moved with his family to Ayden, NC and served as Town Manager until 1971, when he moved with his family to Laurinburg, NC. There, he served as City Manager until his retirement in 1998. During his 27 years as City Manager of Laurinburg, a job aided by his engineering background, Peter oversaw the rebuilding of much of the city's infrastructure. He was a Certified Land Surveyor and a licensed Professional Engineer in the state of North Carolina. He served as the Building Committee Chairman for the construction of a new, 7500 seat capacity stadium for Scotland High School, which was dedicated as Pate Stadium on September 7, 1979. He played a key role in the creation of the North Carolina Eastern Municipal Power Agency, serving as Vice Chair of the Board of Commissions from 1976 until his retirement in 1998. He served as Treasurer of the Laurinburg/Scotland County Chamber of Commerce from 1972 to 1998. He was a devout Lutheran and was active in his church community throughout his lifetime, most recently at Zion Lutheran Church in Floyd, VA. A master woodworker, he hand crafted many custom pieces of furniture for family and friends. He was an avid vegetable gardener, and filled the yards of his homes in Laurinburg and Floyd with rows of corn, tomatoes, and cantaloupe. Upon retirement in 1998, he spent 2 ½ years living in a small camper affectionately known as his "Chateau Lite," on 40 acres of beloved land in the Blue Ridge Mountains. During that time, he spent long and happy days building a house that he designed, including the kitchen cabinets and moldings. He lived there with Sarah for the next decade. He applied his skill as an engineer to every aspect of his work and personal life, and approached all projects with precision and care. There was nothing he could not build or repair, and he made thoughtful improvements to many household and mechanical items. He was patient, wise, and fair in his approach to all things, had an inquisitive nature, and an infectious zest for life. He loved trains, bread, desserts (especially ice cream), Handel's Messiah, and he delighted in every aspect of the Christmas season. On weekends, he enjoyed wearing coveralls in his woodworking shop, listening to classical music, chewing tobacco and drinking caffeine-free Diet Coke; but was just as likely to offer his time to others, helping with repairs or building projects. He is survived by his wife, Sarah, of the home; sister, Charlotte Spahr of Chillicothe, OH; son Charlie Vandenberg (Pam) of Laurinburg, NC, son Peter Vandenberg (Wendi) of Boone, NC, and daughter Meg Pulliam (Andy) of Winston-Salem, NC. He was a loving Pop to Lee (Emily), David, Andrew, Peter, Will, Sam, Sarah, and Alice. He was preceded in death by his parents, his sister, Julie Eckerlin, and his brother, Charles Vandenberg. A memorial service will be held on Saturday, February 17, at 11:00 am at Zion Lutheran Church in Floyd, VA. In lieu of flowers, memorials may be made to Good Samaritan Hospice (goodsamhospice.com) or Zion Lutheran Church of Floyd, VA in Peter's name. Online condolences may be made at www.gardnerfuneralhomefloyd.com or on Facebook @gardnerfuneralhomefloyd. The family is being served by Gardner Funeral Home.
---
Guest book
Loretta Callahan
Willis, Va
February 12, 2018
---
John Clark
Laurinburg, NC
February 12, 2018
It was my privilege to serve for eight years on the Laurinburg City Council while Pete was our Manager. I learned so much about city government by observing the way he did his job with great integrity. I was a better Councilman because of Pete. My heartfelt sympathy to all the Vandenberg family.
---
Oscar "Happy" Palmer
Asheboro, nc
February 13, 2018
He was a great man and a great friend to my father, Burt, and my family He was like a 2nd dad to me growing up in Laurinburg, with his kids. He will be sorely missed. Loved being with the man from camping, woodworking, corn field, and working with him at City of Laurinburg. He and my dad did just about anything together on the weekend. Pete, we loved ya and God Bless You and your family, rest in peace. Happy Palmer
---
Bruce Fowler
Charlotte, NC
February 13, 2018
Rest in Peace Pete, it was a great pleasure in working and knowing you. Enjoyed the leadership and time in conversation about the world status over the years. Prayers for the family.
---
Billy Motley
Floyd, Va
February 13, 2018
Peter, you were the brother I wished I had. Thanks for the special times on the golf course. You always seemed to know when I needed to talk.
---
Angi D
USA
February 13, 2018
Pastor Peter and Wendi🌹 Prayers and love to you all and family! Absent of the body present with the Lord❤️️ Angi and Sweet Shirley
---
Molly Bailey
Cary, NC
February 13, 2018
My thoughts and prayers are with you, Sarah. Fondly, Molly
---
Scott Sauer
Merry Hill, NC
February 14, 2018
Sarah and family, While I am saddened to learn of Pete's passing, I am grateful for his friendship, personal generosity and professional guidance during my tenure in Scotland County. Sarah and Pete welcomed our family as we arrived in Laurinburg in 1994 and my experience in the community was greatly touched on many levels through his friendship and support. May he rest in peace. Respectfully, Scott Sauer
---
Jimmy Walters
Laurinburg, NC
February 14, 2018
So sorry to hear the sad news. Pete was a great friend. I will always remember dove hunting with him, our trips to the Circle Fountain in Florence, SC, and the advise he often offered me on work, life, religion, etc. RIP Pete, you will be missed! Jimmy
---
Ken Baker
Christiansburg, VA
February 14, 2018
When I was an employee at Va Tech, Peter's father was my mentor and supervisor. Peter and Charlie both worked for me as student employees on the university's summer survey party. While Charlie was a playful and fun employee, Peter was a serious and dedicated employee. I enjoyed both of them for their respective abilities. I have not had the opportunity to speak to Peter since those days back in the 60's, but in reading his obituary, I am impressed that he followed in his father's footsteps as an excellent example of a dedicated public servant. I am extremely saddened of his passing and wish the best for his extended family.
---
Curtis and Betsy Alls
Raleigh, NC
February 14, 2018
Our prayers have been with your family through this last journey and wish we were closer so we could have visited. Our prayers will continue as you go through the next weeks. He will be missed! A big part of our high school years with many great memories! Curtis and Betsy
---
carol and Robert Asbury
Radford Va.
February 15, 2018
Pete was City Engineer with the City of Radford in the mid sixties, and Bob was with the Electric Department at that time. We became good friends with Pete and Sarah. We enjoyed knowing both of them. They both went into City Management in other locations. We eventually came back here and Bob became City Manager. We enjoyed knowing them, and valued their friendship. Our thoughts and prayers are with Sarah and family.
---
Robert Ellis
Laurinburg, NC
February 16, 2018
Thinking and praying for you all during this time.
---
Margaret Hill-Daniels
Chillicothe, Ohio
February 16, 2018
My heart felt sympathies for the family as they grieve the loss of a beloved husband, father, brother, Pop and a very kind man.
---
David Carr
Delray Beach, Florida
February 23, 2018
Sarah, So sorry to hear about Pete. Our prayers and thoughts goes out to you and your family. God bless.
---
Cal Horton
Prescott, Arizona
February 27, 2018
I met Pete when he was the Manager in Laurinburg and I was Don Hayman's research assistant. I came to know him better through the North Carolina City and County Management Association. He was a very good city manager and a very good man. In some ways he was part of the last generation of engineer-managers, determined to make sure that his community had the infrastructure that it needed. His impact was positive and lasting. I am sorry to learn that he has passed on to whatever is next.
---
Sign the Guest Book for Peter Gerard Vandenberg