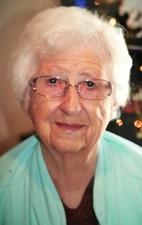 Sylvia Goad Sutphin
July 30, 1929 - February 10, 2018
Sylvia Goad Sutphin 88 of Floyd, VA. left for her journey to heaven on Saturday February 10, 2018 after a long battle with Alzheimer's. She was preceded in death by her loving husband of 64 years George Sutphin. She was the proud mother of her two children, her daughter Vanessa Sutphin Mays of Christiansburg, Va., and son Kenneth Sutphin and wife Nacol of Roanoke, Va. Three grandchildren; Kimberly Wade, Joli Wade Huynh and husband Thai, Noah Sutphin, and great granddaughter Emma King. She was the best mother anyone could ever ask for. She was loved and will be missed immensely. A sincere thank you goes to the nurses and staff of English Meadows Nursing Home. A special thank you goes to my favorite Medi-Home and Hospice nurses Robin, Kim and Wendy. In lieu of flowers donations may be made to the Floyd County Rescue Squad. Thank you to Gardner Funeral Home who has always provided us with excellent service. A graveside memorial service will be held at the Cannaday Cemetery at a later date. Online condolences may be made at http://www.gardnerfuneralhomefloyd.com or on Facebook @gardnerfuneralhomefloyd. The family is being served by Gardner Funeral Home.
---
Guest book
Steven and Patricia Cunningham
Moneta, VA
February 13, 2018
To Vanessa and Ken, We are both sorry to hear about the passing of your mother. We know this is a difficult time for both of you, and may you be granted GOD's grace as you grieve. Know that her journey here has ended, and she is young, happy, and free with your dad in heaven. Bless you both and the rest of your family as well.
---
Anita LeDuc,LPN
Christiansburg
February 15, 2018
I had the profound pleasure of meeting Sylvia and taking care of her until her last day here on earth. I praise God that she got her wings, is singing and dancing with loved ones that have passed before and she is in no more pain or suffering. She had the sweetest smile and the cutest way of saying hello. She had also raised two incredible children. Vanessa with her sweet smile an amazing stories she shared with me of her mom; and then there is Ken. Ken is a man of few words, but such a man with such strength and love. I'm always here for you both. I loved your mom and I love you guys.
---
Sign the Guest Book for Sylvia Goad Sutphin