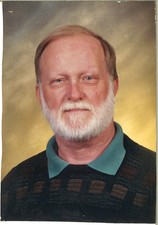 Phillip Theodore Fullbright
October 17, 1945 - April 07, 2018
Phillip Theodore Fullbright died Saturday, April 7, 2018 from complications following a stroke. He was born October 17, 1945 to Iris T Fullbright and Fannie J Fleming Fullbright. Phil was preceeded in death by his father. He is survived by his wife of 49 years, Deborah W Fullbright (Debbie); son Paul Fullbright, his wife Marcy, and his daughter Zoe of Cary, NC; daughter Andrea Fullbright and her husband Daniel (Zingo) Munger of Chapel Hill, NC; mother Fannie Jan Fullbright of Hickory, NC; sister Sharan Taylor and husband Tom of Trenton, NJ; brother Michael Fullbright of Lesotho, Africa; sister Denise Murray and husband Duane of Newton NC; and son-in-his-heart, Adam Landman of Star, NC. Phil retired in Charlotte, NC after 30 years with BellSouth as an engineer. He served in the US Air Force during the Vietnam War era, stationed in Louisiana, Georgia, Greece and Oklahoma. Throughout his life Phil enjoyed singing choral music at Hickory High School, NC State University, Charlotte Philharmonic Chorus, Floyd County Chorus and several Lutheran churches. Phil loved exploring the North Carolina mountains where the family spent many summers camping. Having raised their family in Charlotte, Phil and Debbie moved to Indian Valley in the mountains of Virginia in 2002 and have thoroughly loved the slower pace of life, making new friends, cool crisp nights with millions of stars, their fur babies (Pretzel, Mattie, Murphy, Bogey and Brando), and their section of the Greasy Creek valley - a true heaven on earth. A Wake will be held Friday, April 13 from 6-8 at Hotel Floyd. Memorial service will be held Saturday, April 14 at 12:00 noon at St. Mark Lutheran Church in Willis, Va (Highway 221 S, Willis VA 24380) with Pastor Linda Motley officiating. The family sincerely thanks everyone for their love and prayers during this difficult time. In lieu of flowers, memorial donations can be made to St. Mark Lutheran Church in Willis, Va (PO Box 37, Floyd, VA 24091); Humane Society of Floyd; Floyd County Volunteer Rescue Squad Station 4 Indian Valley, Va. Gardner Funeral Home is serving the family.
---
Guest book
john thompson
Seneca, SC
April 12, 2018
Phil was a great friend and mentor. I cannot believe that we will never meet again. I can still hear him calling me across the cubicles at work, "Hey, Thompson, are you ready for some "Charbucks Coffee?" Phil loved life and every one he met. Debbie, all the best to you and yours. John L. Thompson
---
Pat Blackburn Erdman
Murrells Inlet, SC
May 02, 2018
So sorry I just found out Phil had died. I'm so very sorry Debbie and family. Phil was always a nice guy and gentleman even in high school. So very intelligent and caring. I know you feel his loss and I truly feel for you. God bless you in your grieving journey.
---
Sign the Guest Book for Phillip Theodore Fullbright