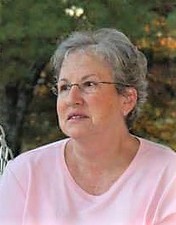 Peggy Jean Horne
April 21, 1950 - April 20, 2018
Peggy J. Horne went home to her Lord and Savior Jesus Christ on April 20, 2018. Making her stay on earth 67 years, 11 months and 29 days. She was preceded in death by her parents, Ruth Whitt Moore, and Clyde R. Moore of Cedar of Cedar Bluff, VA, two sisters, Mary Turner of Richlands, VA, and Iris Sparks of North Tazewell, VA, one brother Ralph Moore of Smithfield, VA. Surviving is spouse Larry V. Horne, Floyd, VA, two sons Roderick Vaughn Horne of Denver, CO, and Brian Keith Horne and wife, Ana of Floyd ,VA, one granddaughter, Megan Horne of Christiansburg, and one grandson, Adam Horne of Floyd, VA, three brothers, Hershel Moore of Cedar Bluff, VA, Noah Moore of Cedar Bluff, VA, and Jimmy Moore of Richlands, VA, one sister Maggie Sanford of Yorktown, VA, countless nieces, nephews, friends, and extended family members. She was a member of the Primitive Baptist Church, Tazewell VA for 48 years. Her greatest joys were found in her family: her husband Larry of 49 years, her children and grandchildren, as well as all her extended family and dear friends. Her faith in God ran deeper than the deepest ocean and her love of God was as deep. She loved to share her faith of her Lord and Savior, Jesus Christ. She worked and served at the Bank of Floyd and Member One Credit Union. Peggy had many gifts and talents, three of which were: interior decorating, watercolor painting, and celebrating life. Funeral service will be Monday April 23, 2018 at 10:30 AM at Gardner Funeral Home with Elder Ezra Davis Jr, and Elder Jeffery Arnold officiating. Interment will follow in Southwest Virginia Veterans Cemetery, Dublin VA. Family will receive friends Sunday April 22, 2018 from 5 to 7 PM at Gardner Funeral Home. In lieu of flowers donations may be made to the Funeral Home for Funeral Expenses. Online condolences may be made http://www.gardnerfuneralhomefloyd.com or on Facebook @gardnerfuneralhomefloyd. The family is being served by Gardner Funeral Home.
---
Guest book
Bonnie (Sanford) Lockwood
Yorktown, VA
April 21, 2018
Heavenly Father - Thank you for blessing me with such a loving and beautiful Aunt. My heart is broken and I miss her so much. She was such a beautiful person inside and out. She was and always will be my Mom's best friend. They loved one another unconditionally and every time they were blessed to be together we were all certain to hear them laugh and enjoy one another's company…it was as if they were still young girls having the time of their life. They shared everything together, the ups, the downs and everything in between. They cried together, laughed together, and had a special way of celebrating life. Any one of us would be blessed to have had a sister-bond like they had. I'm certain my Aunt is celebrating her new life with our Lord and Savior, Jesus Christ. We have our King's promise and I stand faithful in knowing that we will all see Aunt Peggy again when we are called home to spend eternity in Heaven with our Lord and Savior. Oh what a glorious day it will be! No more pain, no more suffering, no more tears. Heavenly Father, thank you for blessing me with the opportunity to witness the unconditional love my Aunt and my Mom shared. Father, this is such a difficult time for all of us and I ask that you give us strength and help us all through this difficult time. I know Aunt Peggy is with you now and as we look to you for strength and courage, may we glorify you Father, may we remember to trust in you. May we celebrate Aunt Peggy's life and all the love and laughs she shared with us all. I love you Aunt Peggy and I look forward to seeing you again soon, in Jesus' Name, Amen. ~Bonnie (Sanford) Lockwood
---
Thomas R Moore
Hampton, Va
April 21, 2018
So sorry for your loss. I'll really miss her giggles.
---
Jerry & Jeanne Dameron

April 22, 2018
GOD bless you all at this time. She's been so strong and brave--Our love and sympathy to all. Jerry and Jeanne Dameron
---
Nadine Collins and Gail
Pawleys, SC
April 22, 2018
Deepest sympathies on the loss of your beloved Peggy. May our Lord bring you comfort and strengthen your faith, and your memories sustain you. We will see her again.🙏
---
Eld & Sis F.R.Beavers
Tazewell VA
April 22, 2018
Dear Brother Larry and Family May Our Jesus Hold You Up in The Sure Hope Of The Resurrection. Our Condolances to You and All The Family...LOVE DID A FINISHED WORK IN CHRIST...Amen
---
Gwen Hendrick

April 23, 2018
To The Horne Family, I just learned of Peggy's passing this morning when I turned on my computer at work and pulled up the emails from church. Brian-we are so sorry to hear of your mom's passing and wish I could be there for you today. Your mom was a very special person and a great friend. I worked with her for years, and I cherish the memories of her. You are in our thoughts and prayers, and we hope it will comfort you and your whole family to know she is in Heaven and no longer suffering. God Bless. Much Love, Brent, Gwen, Jennifer, and Kevin Hendrick and Jeanette Agnew
---
Patricia Whitlock
Floyd, Va
April 23, 2018
So sorry for your loss. I had the pleasure of knowing Peggy when we worked together at the Bank of Floyd. She was a kind and sweet soul and she will be greatly missed.
---
Sharon K. Dalton
Hillsville, VA 24343
April 23, 2018
Dear Sharon, I am so sorry to hear about the loss of your Sister-In-Law Peggy. I am praying for you and your family. If there's anything I can do, please don't hesitate to contact me.
---
David Horne
Cedar Bluff, Va
April 23, 2018
I am so sorry for your loss. I know words cannot describe how you must feel, we will be praying for you and family.
---
Sign the Guest Book for Peggy Jean Horne