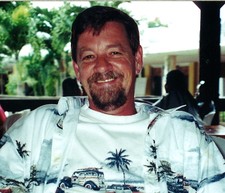 Earl Aldridge
March 28, 1952 - May 05, 2018
Earl Aldridge, 66, passed away on May 5, 2018 at approximately 12:15 am at his home in Pilot, VA. He was the husband of Cathy Gallimore Aldridge. They shared 45 years of marriage together. Born in Montgomery County, he was the son of Willie and Eva Aldridge. He worked in the entertainment business for approximately 40 years, where he enjoyed providing entertainment for others and meeting many new people. He enjoyed social gatherings with family and friends, and never missed a sporting event with his boys. Earl will be remembered for his sense of humor, loving heart, willingness to serve others, and endless kindness to everyone with whom he came in contact. He is survived by his mother, Eva Aldridge; sister Joyce (Kenneth) Bare and brother Bill Aldridge; niece Kimberly (Terry) Wallace; nephew Timothy Bare. He is also survived by his wife Cathy; sons Chad and Landon; daughters-in-law Tiffany and Elizabeth; granddaughters Megan, Grace, Madeline and Reagan; mother in law Irene Gallimore; and also by his brothers and sisters-in-law. In lieu of flowers, please make donations to Floyd County Rescue Squad and Haven's Chapel in Terry's Fork. The visitation will take place on May 8th at Gardner Funeral Home in Floyd, VA from 5-8 pm. Funeral services will take place on May 9th. The burial will take place at Restvale Cemetery, 7311 Floyd Hwy. N., Copper Hill, VA at 11 am, followed by the funeral service at 1 pm at Beaver Creek Church of the Brethren, 409 Ridgeview Rd, Floyd, VA with Pastor Darren Landon and Pastor Stanley Hawkins officiating. A meal will follow the service at the church for family and friends. Online condolences may be made http://www.gardnerfuneralhomefloyd.com or on Facebook @gardnerfuneralhomefloyd. The family is being served by Gardner Funeral Home.
---
Guest book
Kaye Ward
Roanoke, Va.
May 06, 2018
There are no words!! Dear friend our paths have crossed so many times since we walked those halls at FCHS. LOVED you as a friend and a member of my extended family. Dear Cathy know that I will continue to hold you up in my prayers. I love you, Kaye
---
Shirley & Doug Phillips
Indian Valley, VA
May 07, 2018
Cathy & family, We were so sorry to learn that Earl was sick a few months ago and has now passed away. I know your hearts are broken and you will miss him so much; but, just keep your trust in the Lord and He will give you the comfort that no one else can. With love and sympathy,
---
Phyllis Petty
The Villages, Fl
May 07, 2018
Dear Cathy, I'm so sorry to hear about Earl's passing. Barb had told me that he was sick. Praying for you and your family. Will always have fond memories of Earl. Phyllis & Roy
---
So very sorry for your loss May god be with the family & Eva. I volunteer at Skyline. Eva is such a sweet lady. ♡♡
---
Becky Smythers
Roanoke, VA
May 07, 2018
Cathy and family, I am feeling your pain and grief because I have been through it myself. Only God and time can heal this sorrow. Please know that I am praying for you each step of the way, and I am here for you. Love and prayers, Becky
---
Linda walton
Mechanicsville va
May 07, 2018
With heart felt sympathy, your family is in our thoughts and prayers.
---
Mike and Debbie Agee
Roanoke, VA
May 08, 2018
Remembering Earl and his fellow "Terry's Fork terror's" from back in the day at FCHS. Earl had the quickest wit of anyone I have known. Always a pleasure to be with. May God bless Cathy and family in their time of sorrow.
---
Gail and Doug Minter
St Augustine, FL
May 08, 2018
We are so sorry to hear of Earl's passing. Thoughts and prayers for all of the family.
---
Mildred Banks

May 08, 2018
My prayers are with you and your family. Will be praying for you tomorrow.
---
Mike Conner
Check Va
May 08, 2018
So very sorry to hear of Earls passing he will be missed by all who got to know him our prayers go out for the whole family Mike and the crew at Gearhearts
---
Tommy&Linda Rumburg
Copper Hill, Va.
May 08, 2018
Cathy and Family: We are very sorry to hear of Earl's passing. We will keep you and your family in our thoughts and prayers. May God bless you and give you his comfort and peace.
---
Wes and Linda McMillian

May 09, 2018
Cathy, Landon and Chad We are so sad to hear of Earl's passing. Our thoughts and prayers are with you and your family.
---
Dubby Dickerson
Nashville, Tn
May 09, 2018
All I can think about is all the wonderful years we and our children shared together. Chad , Landon, Amy and Sara grew up to be wonderful adults. We did our jobs!! I truly will miss Earl who I considered a dear friend. Cathy, I am so sorry for your loss. If you and the boys need anything, I hope you know I would try to help in any way I can!!
---
Sign the Guest Book for Earl Aldridge