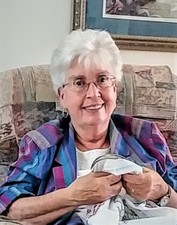 Frances Jeanette Wimmer Burnside
June 18, 1937 - May 30, 2018
Frances Jeanette Wimmer Burnside, 80, passed into her eternal rest from cancer on Thursday May 30, 2018. A graduate of Check High School in 1955, she worked her early professional life at Shenandoah Life Insurance Co. in Roanoke. She married the late Newton Joseph Burnside Jr. in 1978. When Joe became pastor at several churches she became music director, first at Oak Grove Assembly of God, Faith Assembly of God and Later co-founded Blue Ridge Chapel in Floyd. She was also active for many years in Waverly Place Baptist Church in Roanoke. Preceding her in death were her beloved husband, the Reverend Joseph Burnside, her father Harless Wimmer, sisters Claudie Mobie Wimmer, Nadine Vogel and Amy Wimmer, brothers-in-law Wayne Austin and Walter Vogel. Survived by Mother L.Z. Epperly Wimmer, children Jo Ann and Jerry Burnside, sisters and brothers-in-law Bobbie and Buddy Poff and Linda and Shelly Rosenbloom, brother and daughter-in-law Mike and Melissa Wimmer and many in-laws, nieces, nephews, friends and neighbors. Funeral services will be held Saturday, June 2 at 2:00 PM at Gardner Funeral Home in Floyd, followed by interment at Huffville Cemetery. Visitation will be before the service beginning at 1:00PM. Flowers will be appreciated, or memorial donations can be made in her honor to Eastern Appalachian Teen Challenge which helps trouble and disadvantaged youth address 5720 Williamson Rd. Roanoke, VA. 24012. The Family wishes to thank all her doctors, nurses, caregivers, friends, neighbors and especially the Hermitage of Roanoke for the excellent care she received and a special thank you to Susan Painter for going above and beyond for Jeanette and our family. Online condolences may be made http://www.gardnerfuneralhomefloyd.com or on Facebook @gardnerfuneralhomefloyd. The family is being served by Gardner Funeral Home.
---
Guest book
Pamela Rumburg
Check, VA
June 01, 2018
Jeanette was absolutely one of the sweetest, purest, God-loving souls around. She was an inspiration to all who knew her and will be greatly missed.
---
Roddy Goins & Dave Rogers
Atlanta GA
June 01, 2018
My husband and I send our most sincere condolences at this difficult time. May fond memories help alleviate some of the loss. In Rod's Roman Catholic faith, I offer the following: "The Christian meaning of death is revealed in the light of the Paschal Mystery of the Death and Resurrection of Christ in whom resides our only hope. The Christian who dies in Christ Jesus is 'away from the body and at home with the Lord' (2 Cor 5:8). God bless and condolences and all best wishes to the family. Hugs.
---
Eddie Wimmer
Shawsville, va
June 08, 2018
I am sorry to hear of Jeanette's passing. I found out today when my wife and I went to put flowers on mom and dad's grave. I am so sorry to find out this way. I hope my Aunt is doing ok. Again, I am sorry for the loss
---
Sign the Guest Book for Frances Jeanette Wimmer Burnside