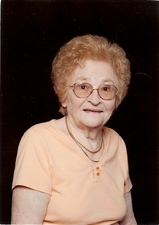 Dexter Marie Sowers
May 30, 1922 - January 15, 2011
Dexter Marie Conner Sowers, 88, of Copper Hill, passed away Saturday, January 15, 2011. Dexter was born in Copper Hill, Va. on May 30, 1922 to Jasper and Elizabeth Conner. She was preceded in death by her husband, Arnold F. Sowers in 1998; family members, Pauline Rakes, Goldie Bartlett, Lee and Margaret Conner, Sam and Elzora Conner, Hazel and Coy Ferris, Iva and Bob Morgan, Mabel and Edmund Poff, Virginia Conner, Woodrow and Rheba Conner,Velva and Henry Davis, and Bonnie Conner. Dexter is survived by three sons and daughters in law, Brenn and Alene Sowers, Bruce and Wanda Sowers, Joel Sowers and Fiancé, Geanna and Gabriel Mullins; one daughter, Carmen Manning; one sister and brother in law, Georgianna and Leon Link; one brother in law and spouse, Arthur and Ilene Conner; Eight grandchildren; twenty four great grandchildren; and numerous nieces and nephews. Special thanks to Medi Home Health and caregivers, Angie Manning and Phyllis Donathan. Funeral Services will be held at 2:00 p.m. on Tuesday, January 18, 2011 at Head of the River Church with the Reverend Olen Gardner officiating. Interment will follow at Restvale Cemetery. Friends may call Monday, January 17, 2011 where family will receive from 6:00 p.m.to 8:00 p.m. Arrangements are being handled by Gardner Funeral Home in Floyd, 745-2007. Friends may send condolences to the family at www.gardnerfuneralhome.com.
---
Guest book
Elizabeth Morey
Sarasota, FL
January 17, 2011
We are so sorry to hear of Aunt Dexter's death. Our sincere condolences to all of the family. She was loved so much and will be missed by everyone. May you find peace and inner strength in the wonderful memories of her lifetime. "Peepsie" and Walter Morey
---
Larry and Jenny Fitzgerald
Salem,Va.
January 17, 2011
How can we express our sorrow at the passing of your loved one,no words can help at a time like this,
---
Tommy and Linda Rumburg
Roanoke,Va
January 18, 2011
To Brenn,Carmen,Bruce,and Joel and family. We just learned this morning of the passing of your mother and would like to offer our sincere condolences to all of you. Our thoughts and prayers will be with you during this difficult time. May God give you his strength and peace to comfort you as you cherish the memories of your mother.
---
Charlie Millican
Blue Ridge, Va.
January 18, 2011
To Joel and family: I am so very sorry to hear of your loss. Sickness prevents me from being there at the service with you. I will keep all of you in my thoughts and prayers. Having lost my mother not too long ago I understand the void that you feel. Time does help to heal and knowing that you will see her again in the future in our greatest hope. Sincerely, Charlie Millican (Joel: call me if you can @ 540-761-7947)
---
Glenn & Dottie Conner
Forest Hill, MD. 21050
January 18, 2011
Sorry for your loss but I know Aunt Dexter is in Gods hands now. Glenn and Dottie
---
Sign the Guest Book for Dexter Marie Sowers