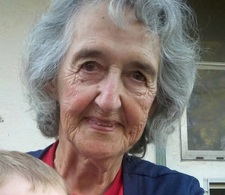 Ava Ruth Brindley
June 02, 1929 - September 09, 2018
Ava Ruth Brindley "That Nolen Girl" Ava Ruth Brindley died in her home in Floyd over the weekend of September 8th this year. She was 89. She leaves behind two daughters; Donna Rankin of Rock Hill, South Carolina, and Carol Chandler of Lafayette, California. She was the only girl in a family of raucous boys: Ivan Nolen, Warren Grant (Now deceased), Toby, and Jack Nolen, both in Vinton. She also has numerous nieces and nephews, three grandchildren: Benjamin, David, and Alicia, and two great-grandsons, as well as several grand-nieces and nephews. Ava was born in Floyd County on June 2, 1929, in the family home on Shooting Creek Rd. She graduated from Floyd High School, and worked for DuPont in Martinsville, marrying Harold Hairfield. They were transferred to California by the Army, settling near San Francisco, where her daughters were born. She and Harold divorced in California. She subsequently married Bruce Brindley of Iowa. They also divorced, though remaining close. She then raised her daughters as a single mother, working for Wells Fargo Bank as a computer operator, then for several other Bay Area companies in the computer field. After retiring, she busied herself finding and restoring flea market treasures, and working with her daughter, Carol, and grand-daughter with their equestrian activities. Ava moved back to Floyd in 2002, settling into her home on Needmore Lane in Floyd. She was active with Angels in the Attic, and often drove her vintage truck in the Floyd Christmas Parade. Family and friends are invited to a Celebration of Life Party at Ray's Restaurant, 1041 Floyd Hwy N from 2 -5 on Saturday, Sept. 22nd. Please come share stories and tall tales about her, and rejoice with her family and friends. We will be creating a Memory Capsule with items that remind us of her that will be buried along with her ashes. She will be buried at a private ceremony at the Nolen Family Cemetery on Sunday. Online condolences may be made http://www.gardnerfuneralhomefloyd.com.
---
Guest book
Collins Chiropractic
Floyd, VA
September 26, 2018
Employees of Collins Chiropractic would like to express our heartfelt condolences to the family and friends of Ava Brindley. She was a patient of ours for a long time and will be missed.
---
Sign the Guest Book for Ava Ruth Brindley