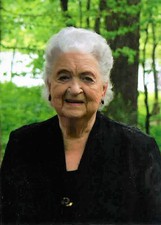 Velma Rhoenia Hill Spangler
October 09, 1928 - October 19, 2018
Velma Rhoenia Hill Spangler, 90, born October 9, 1928, went peacefully to her New Home with Her Lord and Savior, Jesus Christ, on Friday, October 19, 2018. Preceded there by her Husband, James Abraham Spangler, she left behind Beautiful Memories for her Family. Children: Daughter, Donna S. Graham (Dean); Sons: Larry D. Spangler (Lisa) and Gregory L. Spangler (Vickie). Grandchildren: Dana C. Graham (Leigh Anne), Denna G. Harris (Terry), Stacy Spangler (Angel), Stephanie S. Slocum (Skip), Angel Marie Spangler, Alena S. Smith (Michael), Tausha Spangler, Derrick Spangler, Joshua Spangler (Kristy). 12 Great Grandchildren; Sister: Darlene H. Duncan, Sister in Laws: Opalene Hill and Mary S. Nester along with Many Loving Nieces and Nephews, family and friends. Velma touched many lives with her Love and Prayers for everyone she met. She loved her Church families both at Beaver Creek Church of the Brethren and Christian Growth Center and Spirit Wind Ministries was dear to her Heart. Her prayer and wish was for all to come to have Peace and Joy through Jesus Christ. She was a true Proverbs 31 Woman. In her Bible she had written: "Happiness is not so much in Having or Sharing – We make a Living by what we get But WE MAKE A LIFE BY WHAT WE GIVE". SHE SURELY GAVE! A celebration of her life will be held at 11:00 am Monday, October 22, 2018 at Beaver Creek Church of the Brethren with Pastor Marvin Wade and Pastor Rob Sowell officiating. Interment will follow in Beaver Creek Cemetery. There will be a visitation held one hour prior to the service at Beaver Creek Church of the Brethren. God Bless You All for your Love and Care during Her Journey Home, including: Her Loving Family, Church Family, Carilion Hospice, Her Loving Caregivers, Neighbors and Friends!
---
Guest book
Wanda Wehrend
Salem Va
October 20, 2018
Greg,So very sorry. Keep all the good memories with you always..
---
Teresa Gillespie
Copper Hill, VA
October 20, 2018
So sorry for your loss. May angels help you find peace and comfort.
---
Jean Harman

October 20, 2018
Deepest sympathy to the family
---
JUDY B GRADY
Christiansburg, VA
October 20, 2018
MAY GOD'S LOVING PRESENCE COMFORT YOU, HIS PEACE, THAT ONLY HE CAN GIVE RESTORE YOU AND HIS PROMISE KEEP YOU DURING THIS TIME OF LOSS. PRAYING THAT FATHER GOD, WILL BLESS YOU AS ONLY HE CAN IN THE COMING DAYS. I WISH TO EXTEND MY DEEPESST, HEARTFELT SYMPATHY TO THE FAMILY OF MY BELOVED SISTER IN THE LORD, VELMA SPANGLER.
---
Dale and Marsha Beaver
Rockwell, NC
October 20, 2018
Love and prayers for family. May God wrap His loving arms around you and comfort you. We share in your loss and rejoice with you in the promise of eternal life that Velma is experiencing.
---
Donna Graham
Floyd, VA
October 20, 2018
To all of You, May God Bless You for your Love and Prayers for Mom for the last year and a half.
---
Ben Harmon
Olive Hill, KY
October 21, 2018
I'm so very sorry for your loss. Manny, many prayers Ben Harmon
---
Michael & Kim Lee
Christiansburg, VA
October 23, 2018
We will miss Velma. She was truly a beacon of light for the Lord. Our thoughts and prayers are with the family.
---
Sign the Guest Book for Velma Rhoenia Hill Spangler