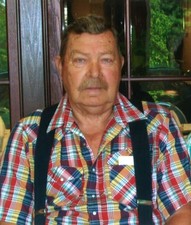 Isaac (I.W) William Collins
March 11, 1938 - November 21, 2018
Isaac (I.W) William Collins, 80, of Check, went to his eternal home on November 21, 2018 surrounded by his loved ones. I.W was preceded in death by his parents: Raynard and Gertrude Collins of Riner, and sister Edna Thompson of Christiansburg. I.W is Survived by his wife of 60 years: Linita Martin Collins, and children: Rodney (Debbie) Collins, Pam (Lane) McAlexander, Robin (Lee) Naff, Barbara (Calvin) Conner, Ralph (Sheila) Collins, and Lisa (Donald) St.Clair, 13 grandchildren, 18 great-grandchildren, siblings: Jerry Collins, Virginia (Sis) Poff, Frances Shillingberg, Harley Collins, and Elva Jones. I.W was known as a man with an incredible work ethic. He worked hard to take care of his wife and children. I.W was a member of the U.S National Guard successfully completing basic training in April of 1958. He made his living as a welder and master mechanic. He enjoyed camping, fishing, hunting, horseback riding, and family gatherings. I.W was a member of Stonewall Church of The Brethren where he served as Sunday School Superintendent for a number of years. Brandy, I. W's special 4-legged friend brought him much pleasure the last several years of his life. Funeral services will be held on Sunday November 25, 2018 at 2pm at Gardner Funeral Home with Pastor Jerry Hylton, Pastor Darren Landon, along with children Rodney and Robin officiating. Interment will follow in Wilson cemetery. Friends may call after five on Saturday November 24, 2018 where the family will be from 5pm-8pm. In lieu of flowers the family requests donations be made to the Floyd County Rescue Squad and Stonewall Methodist and Brethren Church.
---
Guest book
Peggy P. Quesenberry
Christiansburg, VA
November 24, 2018
Pam, Barbara, and all the family, I am very sorry. I pray for peace and comfort during this time of your dad's passing. Even if expected it hurts our hearts so much to not be able to talk directly to our dad and hear his voice. While time helps, it never will stop hurting. I lost my dad on Dec. 23, 2005, and there was a crack in my heart that has never healed and won't until we are reunited some day. I thank God for that promise! I won't be able to attend services, but please know the Collins family will be in my prayers, and especially both of you and yours. Hugs, Peggy (PQ) from the factory
---
Donna Aldridge Hall
Vinton VA
November 29, 2018
I just found out about your loss. I am so very sorry. You are never too old to stop needing your father. I know the emptiness you children are feeling. Linita your life partner it has to be very difficult. Please know you are all in my thoughts and prayers. Sending you love!
---
Sign the Guest Book for Isaac (I.W) William Collins