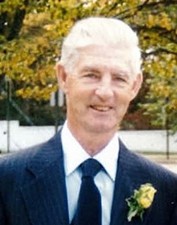 John Robert Knapp, Jr.
August 21, 1925 - December 15, 2018
John Robert Knapp, husband of the late Nettie G. Knapp, resident of Floyd, VA passed away on 12/15/2018. John was a kind and generous man who loved his family. He was talented in many areas including carpentry, forestry, gardening, and farming. He loved growing vegetables, making apple cider, watching boxing on TV, fishing, boating, building anything and being with his family. John was an Army Veteran of WW II. After his induction in Camp Upton, NY he was stationed at Fort Belvoir, Virginia. There he was schooled in mines, booby traps, demolition and ballistics. While stationed at Fort Meyer, VA. he was in the Military Police and guarded General Eisenhower and his family in Washington DC. While in the 703rd Military Police in Washington DC, John was honored to march with the 2nd Battalion behind the caisson of President Franklin Delano Roosevelt. After WWII was over, John started a custom home building company, Knapp & Shields in Westchester County, NY. John built the family's first house in Hastings-on Hudson, NY and in 1962 moved the family to Cold Spring, NY where John built a larger home for his growing family of 9 children. While in Cold Spring, NY he was instrumental in forming and building a Fire Department for the area. John became Chief of the North Highlands Fire Department in Cold Spring, NY and Nettie Knapp was President of the Ladies Auxiliary. In 1986 the family moved to Floyd, Va. where John was surprised to learn that his great Uncle Admiral Robley D. Evans was born in Floyd, VA. John was born in Elmsford, New York on August 21, 1925, the second child of John Robert and Florence Evans Knapp. He was the husband of Nettie G. Knapp and father of John Robert Knapp III, Linda K Borek, Susan K Galbraith, George R Knapp, Nettie K Tomshaw, Barbara B Seidemann, Brian J Knapp, Bruce A Knapp and Mary J Knapp. Surviving relatives are brother Craig Knapp and sister Marilyn Darling along with many in-laws, nephews, nieces, grandchildren and great grandchildren. John will be greatly missed by his family and dear friends throughout the country. Friends may call on Friday January 4, 2019 at Gardner's Funeral Home, 202 E. Oxford St, Floyd, VA 24091 where the family will be from 6pm to 8pm. A Celebration of Life service will be held on Saturday January 5, 2019 at 11am at Gardner Funeral home with Pastor Scott Obenchain officiating. Interment will be at the Jacksonville Cemetery. In lieu of flowers, donations can be made to the American Legion National Headquarters. Online condolences may be made http://www.gardnerfuneralhomefloyd.com or on Facebook @gardnerfuneralhomefloyd. The family is being served by Gardner Funeral Home.
---
Guest book
Michael and Nanette Johnson
Fort Mill SC
December 22, 2018
Deepest sympathy on this great loss to the family. F, Michael and Nanette Johnson
---
Deborah Carter
Floyd, VA
December 22, 2018
Barbie and family, I am so sorry for your loss. I know you will really miss him but you do have a lot of memories with family celebrations. You and your family will be in my prayers today and in the days ahead.
---
Gwen Goepel
Floyd
December 23, 2018
I will surely miss this sweet interesting funny gentle soul
---
BETH AND DAVID SMITH
Oak grove,mo
December 27, 2018
Our condolences to the family of a great man. Uncle Buddy will be greatly missed by all who knew him. We thank you for your Miltary service Uncle Buddy.. May God bless you and your family. LOVE from David,Beth,Andy and Chelsea Smith.
---
Frank W. Halloby
Coventry, R.I.
January 05, 2019
I'll really miss you Uncle Bud.
---
Sign the Guest Book for John Robert Knapp, Jr.