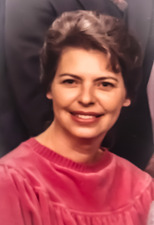 Gracie Lee Vaught
April 26, 1940 - December 21, 2018
Gracie Lee Vaught, 78 of Floyd, VA passed away on December 21, 2018. She was born on April 26, 1940 to the late Homer Roy and Estie Fletcher Wilson of Pearisburg, VA. She was proceeded in death by her brothers Robert, Roy and Steve Wilson; and her sisters, Margie (Sis) Talbert, Lula Kessinger and Rowena (Rene) Akers. Left to cherish her memory are her loving and devoted husband of 57 years, Bobby Leon Vaught; her sons, Robert Leon (Melissa) of Floyd, VA, Donald Lee (Mabel) of Oakton, VA; her daughters Diana Lynne Riggins of Pilot, VA and Terri Vaught Lashley (Will) of Rockwell, NC; her beloved grandchildren, Martha Jane and Gracie Lee Vaught, Morgan and Brooke Negron, Andy Jones, Bobby Vaught, Kyle, Daniel and Shane Riggins, Allie and Alex Lashley. She is also survived by her sister, Elizabeth (Libby) East of Pearisburg, VA and a host of nieces and nephews. Gracie was a beloved wife, mother and nanny to her family. She loved them unconditionally and devoted her life to caring for them. Born with a "Country Heart", she was the foundation of our family. Always available to listen, she never forgot a single detail of our lives, no matter how many years had elapsed. She enjoyed discussions about the future and provided a comforting shoulder in dealing with our current trials and tribulations. Services will be held at Gardner Funeral Home in Floyd, VA. Visitation will be on Sunday December 23, 2018 from 5pm-7pm; Funeral services will be on Monday December 24, 2018 at 11am. Online condolences may be made http://www.gardnerfuneralhomefloyd.com or on Facebook @gardnerfuneralhomefloyd. The family is being served by Gardner Funeral Home.
---
Guest book
The McNiffes
Houston TX
December 23, 2018
May the Lord grant you peace during this difficult time. Our prayers are with you.
---
Vicky Skinner
Mechanicsville Md
December 23, 2018
Thank you for your sweet always happy spirit!! For your kindness and love!!! You greatly impacted my life I'll see you again.
---
danny riggins
pilot Va.
December 23, 2018
---
Sylvia(Sister)Vaught
Suitland MD20746
December 24, 2018
Dear Lee and Family, May the timeless love of God carry you through the loss you are feeling now. I am thinking of you and your family with heartfelt sympathy and caring prayers. Sylvia "Sister" Vaught
---
Sign the Guest Book for Gracie Lee Vaught