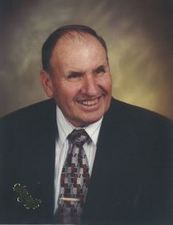 Wilton Lemon Sutphin
October 31, 1933 - February 11, 2019
Wilton Lemon Sutphin, 85, of Floyd was called home to be with the lord, February 11, 2019. He was born October 31,1933. Wilton was a faithful member and deacon at Paynes Creek Primitive Baptist Church. He worked for the Blue Ridge Parkway for 36 years and served in the U.S. Army. Preceding him in death were his parents; Elder Charlie Sutphin & Clydie Sutphin, sisters; Edna, Ola, Hazel, brothers; Elvin, Everett, Alloy, Jessie, Charlie Jr., Robert, Isaac, Harry, Roy, George and Odell. His surviving family includes his faithful wife of 64 years; Thelma Wade Sutphin, sons; Wayne Sutphin (Cindy) and Ricky Sutphin, grandchildren; Chelsa Yoder (Lauren), Melissa Lewis (Lonnie), Riley Sutphin (Allison), Leanna Gallagher (William), Miranda Bush (Matt), great-grandchildren; Trace, Paris, Mellanie, Della, Heather and Glory. Along with numerous nieces, nephews and friends. Special friends; Wendell & Marie Peters, Tony & Karen Link, Eugene Huff, Jerry & Janet Hunter. The family extends special thanks to the staff at Virginia Veterans Care Center for all their caring and support, also to Gardner Funeral Home and Staff. Visitation will be held Wednesday February 13, 2019 from 4-8 pm at Gardner Funeral Home. Funeral Services will be at 1pm on Thursday February 14, 2019 at Gardner Funeral Home with Elder Larry Hollingsworth, Elder Alan Terry and Elder Marvin Brumfield officiating. Interment will follow in Lee Cemetery, Tuggles Gap. In lieu of flowers donations may be made to Paynes Creek Primitive Baptist Church C/O Karen Link 610 Kelleys Dr SE Floyd VA 24091.
---
Guest book
Wilma Dalton
Indian Valley, Va
February 12, 2019
May GOD give you strength and peace at this time of sorrow. Wilton will be greatly missed.
---
Lyle jessie sutphin
Floyd va
February 12, 2019
---
Vicky Via
Roanoke VA
February 12, 2019
Wayne, I am so very sorry about Wilton. We always enjoyed seeing him and talking to him. He was a character. Prayers for you and your family.
---
Mark & Sue Custer
Vinton, Va
February 12, 2019
So very sorry for your loss. Wit was a good man. I can remember him saying he was getting bald headed and better looking.
---
erica willie
roanoke va
February 13, 2019
to the family of mr. sutphin " mama", i am sorry to hear of your loss, i know its hard but then again we also know he is in a better place niw where there is no pain. we cannot question GOD's reason for taking him because we know its for the best. I will miss him, and the way he calls us mama. you and your family will be in my prayers for comfort and healing in this grieving times. stay strong and GOD's love be with you thru this time of loss
---
Donna Martin

February 13, 2019
May God fill your hearts with sweet memories of your loved one and faith you will be reunited one glorious day in His holy kingdom. My love, and deepest sympathy to all of you.
---
Phyllis Quesenberry
Willis,Va
February 13, 2019
Deepest Sympathy to you and your family
---
Jerry and Janet Hunter
Salem Va
February 14, 2019
We are going to miss Uncle Wilton so much. We loved him. He was a good man who we never heard complain any time he was sick. The last time we went to see him his eyes just lite up and he loved the strawberry blizzard. I will always remember how he looked that day. So happy to see us. My Aunt Thelma has been there for me since Mama passed away. She means so much to us and we love her so much. May God Bless you and all the family at this time. We are praying for each of you and love you very much.
---
Linda Sutphin
Ft. Worth, TX
February 23, 2019
Heaven has gained her newest angel! Oh the fun we had with Uncle Wilton, Aunt Thelma and the crew at the Sutphin Reunions over the years. Uncle Wilton was always a blast. I will always remember his laughs and his devotion to Aunt Thelma. Until we meet again.....
---
Sign the Guest Book for Wilton Lemon Sutphin